Continuous Emissions Monitoring Systems
Featured Product from Environics, Inc.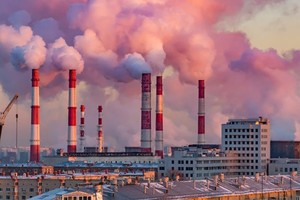 Continuous Emissions Monitoring Systems for Industry
Across the globe, environmental regulatory authorities require manufacturing industries to monitor their pollutant emission rates. The most common means of measuring emissions is with continuous emissions monitoring systems, which are a packaged system of gas analyzers, gas sampling system, temperature, and flow and opacity monitors which are then integrated in with a system for data acquisition. Continuous emissions monitoring systems are used as a tool for monitoring effluent gas streams which are produced by combustion in industrial processes. This then demonstrates compliance to environmental regulations surrounding sources of air pollutants.
How do Continuous Emissions Monitoring Systems Work?
Continuous emissions monitoring systems consist of analyzers which measure gas concentrations inside the stream, direction equipment for moving gas stream to remote analyzers, conditioning equipment and a calibration and maintenance system which means calibration gases can be injected into the sample line and a data handling system.
Continuous emissions monitoring systems work constantly, even when the process that is being measured, meaning the system can continuously monitor emissions.
What Emissions do Continuous Emissions Monitoring Systems Monitor?
Typical emissions for monitoring include:
Nitrogen oxide
Carbon dioxide
Hydrogen chloride
Sulfur dioxide
Carbon monoxide
Mercury
Airborne particulate matter
Oxygen
Volatile organic compounds
Continuous emissions monitoring systems are employed for collecting data regarding emission levels of gases from a range of industries, including power generation, oil & gas, chemicals, and waste incineration. In addition to this, a rise in the amount of strict rules and regulations regarding pollution monitoring across industries is expected to create demand for continuous emissions monitoring systems.
Environics Solution for Continuous Emissions Monitoring
The Environics Series Continuous Emissions Monitoring Calibration Systems (CEMCS) have been used for continuous emissions monitoring vans and laboratories for decades. Our calibration systems exceed or meet all of the performance specifications of the United States EPA 40 CFR Part 51 Method 205 Appendix M. Calibration is a necessary aspect of compliance audits for continuous emissions monitoring systems.
Our calibration systems are bespoke, automated and based on mass flow controller based gas calibration systems which allow for dilution of single, high-concentration cylinder of span gas to low levels for the calibration of gas analyzers for continuous emissions monitoring.
Our continuous emissions monitoring calibration systems are able to precisely dilute large concentration Protocol-1 or certified gas cylinders from high quantities to low quantities, meaning our customers can achieve the exact dilution they need.
Using our system can cut gas cylinder use and rental costs by as much as 60% whilst maintaining the ability for bespoke gas concentrations for calibration. Our systems are highly accurate, repeatable, and traceable and we have a number of custom options available.
Follow us on:
Meet Environics!
Check out this short video on our available products. We design, manufacture and sell gas flow instrumentation, specializing in customizing our units to fit the needs of our customers
Environics
Environics is a world leader in computerized gas flow instrumentation. Our headquarters for design, manufacturing, sales and service is located in a modern 11,000 square foot facility in Tolland, Connecticut. We are ISO 9001 certified, having received ISO 9001 Quality Systems Certification in April, 1997.
As of April 2011, we are a Women Owned business, certified through the Woman Owned Small Business Program run by the United States SBA. Environics was awarded the 2020 Family Business of the Year by the CT District SBA based on our growth over the past 15 years.
We encourage you to challenge us with your most difficult requirements. We specialize in custom systems. We have thousands of systems in the field and have developed an extensive library of applications and solutions to meet our customers' needs. The application of our technology has enabled us to become the world leader in user-friendly computerized gas flow instrumentation.
At Environics, our team is dedicated to customer service before, during and after your system is built. We stand by our systems and believe in building long-term relationships with our customers.