Dynamic multi-point gas calibration
Featured Product from Environics, Inc.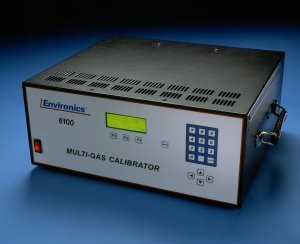 Series 6100
Multi-Gas Calibration/Dilution System
The Environics® Series 6100 Multi-Gas Calibration/Dilution System is the ideal instrument for dynamic multi-point gas calibration when working with low level gases (<1%).
PRODUCT FEATURES AND BENEFITS
User-friendly interactive software with plain language prompts is simple to use, reducing technician training time and virtually eliminating error.
Automatic calculation of dilution and span gas flows based on commanded concentration eliminates the need for manual computation and allows rapid transition from point to point.
Internally-stored mass flow controller calibration data improves accuracy by as much as a factor of ten and simplifies field recalibration. Mass flow controllers are factory calibrated at 11 points.
Full, two-way RS-232 Serial Data Interface (standard) permits remote operation of the instrument including data collection, gas selection, initiation of zero, span and multi-point calibrations.
The S6100 can now be ordered or retrofit to run on a 24V power source so you can use your unit anywhere.

The Series 6100 automatically performs zero, precision, span and multi-point calibrations using NO, NO2, SO2, CO, hydrocarbons and more. Custom options can be selected for calibration of ammonia, HCl and a variety of other gases of interest. The S6100 is a great option for dilutions from ppm or lower level cylinders. For higher dilutions, please refer to the S4040 and S4020 dilution systems.
The Series 6100 consists of a single chassis supporting up to 3 thermal mass flow controllers, an inline mixer and control electronics. Units can be built for 120V, 240V or 24V operation. Common options include permeation, humidification, heated flow path, silicone coated flow path and more.
Commands are entered from the front panel and displayed on a backlit 4 line by 20 character liquid crystal display. The instrument may also be remotely operated using contact closures or the RS-232 serial data interface, both are standard in the Series 6100.
The 6100 comes standard with two mass flow controllers, but a third can be added to support a larger range of dilutions. The mass flow controllers are calibrated to a NIST (National Institute of Standards and Technology) traceable primary standard. The calibration data consists of a comparison of desired versus actual flow over the full dynamic range of the instrument with linear interpolation between points. Calibration data is stored in non-volatile memory and may be updated by the user with a suitable standard.
The Series 6100 is available in either a standard rack mount or portable configuration.
About Environics - World Leader in Gas Mixers, Gas Dilution and Calibration Systems
Environics is a world leader in computerized gas flow instrumentation. Our headquarters for design, manufacturing, sales and service is located in a modern 11,000 square foot facility in Tolland, Connecticut. We are ISO 9001 certified, having received ISO 9001 Quality Systems Certification in April, 1997.
We are a profitable, privately held company, founded in 1986 and incorporated in the State of Delaware. As of April 2011, we are a Women Owned business, certified through the Woman Owned Small Business Program run by the United States SBA. Our five-year projections show continued growth through the introduction of new products and product innovations. All service is handled factory direct. Sales are handled direct and by selected manufacturers representatives and distributors worldwide
Environics Technology
Our gas mixing technology is based on very precise control of thermal mass flow controllers (MFCs). Normally, thermal MFCs offer an accuracy +/- 1% of full-scale flow. However, when combined with Environics computerization and calibration, this accuracy specification is improved to +/- 1% of setpoint. The Full-scale error vs. Setpoint error document shows the 10x improvement in accuracy of a thermal MFC when using Environics controlling technology. Our calibrators and dilution systems exceed the accuracy required by the EPA for Ambient Calibrators (ref: Method 205, 40CFR51, 40CFR60, 40CFR75). For more technical information, see our Technical Documents section, which contains current articles and CFR's pertinent to our technologies.
We encourage you to challenge us with your most difficult requirements. We specialize in custom systems. We have thousands of systems in the field and have developed an extensive library of applications and solutions to meet our customers' needs. The application of our technology has enabled us to become the world leader in user-friendly computerized gas flow instrumentation.
Please review our Product line.