Humidification and Gas Flow
Featured Product from Environics, Inc.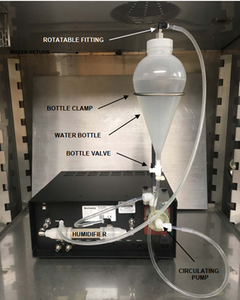 Humidification and Gas Flow
One of the most popular options for an Environics Gas Mixing or Dilution system is humidification. The Environics humidifier option or our stand-alone humidifier allows the operator to add specific RH levels to a blend of gases to simulate actual conditions in laboratory experiments or other cases where gas samples contain humidity. But what is humidification and how is this option applied for an Environics system?
Humidification is simply the addition of water vapor to a gas flow. This is done to create a specific relative humidity or RH. RH is defined as the ratio of partial pressure of water vapor (pH2O) in the gas to the equilibrium vapor pressure at saturation at a given temperature....more...
About Environics - World Leader in Gas Mixers, Gas Dilution and Calibration Systems
Environics is a world leader in computerized gas flow instrumentation. Our headquarters for design, manufacturing, sales and service is located in a modern 11,000 square foot facility in Tolland, Connecticut. We are ISO 9001 certified, having received ISO 9001 Quality Systems Certification in April, 1997.
We are a profitable, privately held company, founded in 1986 and incorporated in the State of Delaware. As of April 2011, we are a Women Owned business, certified through the Woman Owned Small Business Program run by the United States SBA. Our five-year projections show continued growth through the introduction of new products and product innovations. All service is handled factory direct. Sales are handled direct and by selected manufacturers representatives and distributors worldwide
Environics Technology
Our gas mixing technology is based on very precise control of thermal mass flow controllers (MFCs). Normally, thermal MFCs offer an accuracy +/- 1% of full-scale flow. However, when combined with Environics computerization and calibration, this accuracy specification is improved to +/- 1% of setpoint. The Full-scale error vs. Setpoint error document shows the 10x improvement in accuracy of a thermal MFC when using Environics controlling technology. Our calibrators and dilution systems exceed the accuracy required by the EPA for Ambient Calibrators (ref: Method 205, 40CFR51, 40CFR60, 40CFR75). For more technical information, see our Technical Documents section, which contains current articles and CFR's pertinent to our technologies.
We encourage you to challenge us with your most difficult requirements. We specialize in custom systems. We have thousands of systems in the field and have developed an extensive library of applications and solutions to meet our customers' needs. The application of our technology has enabled us to become the world leader in user-friendly computerized gas flow instrumentation.
Please review our Product line.