Streamline Your Calibration - Environics CEMCS
Product Announcement from Environics, Inc.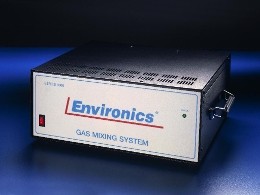 Continuous Emissions Monitoring Calibration System
Our systems are custom built, computerized, mass flow controller based gas calibration systems which allow you to dilute a single high concentration cylinder of span gas to low levels for the calibration of gas analyzers.
The standard Series 4040 can dilute to a 10,000:1 ratio.
Flexibility: The CEMCS precisely dilute high concentration Protocol-1 or certified gas cylinders to an infinitely variable range of concentrations from high percents to low parts per million. Never find yourself stuck on site without the exact dilution you need.
Cost Savings: Our instruments will cut gas cylinder use and cylinder rental costs by up to 60%, while providing any gas concentration required for the calibration of your analyzers. Normal payback on the Series 4040 is less than 12 to 18 months depending on cylinder gas usage.
Accuracy: Our technology is based on very precise control of thermal mass flow controllers. The Full-scale error vs. Setpoint error document shows the 10x improvement in accuracy of a thermal mass flow controller when using Environics controlling technology.
Repeatability: Our systems have a repeatability of +/-0.05% of full scale.
Traceability: The instruments' mass flow controllers are factory calibrated using a computer controlled primary flow standard traceable to the United States' National Institute of Standards and Technology (NIST).
Audit Trail: Our systems are capable of conducting calibrations either in a fully automated mode with standard USB or an optional RS-232 Serial Data Interface to allow for simple maintanence of an audit trail.
Custom Options: We have thousands of systems in the field and have developed an extensive library of applications and solutions to meet our customers' needs. Contact us for more information on your custom needs.
Environics is a world leader in computerized gas flow instrumentation. Our headquarters for design, manufacturing, sales and service is located in a modern 11,000 square foot facility in Tolland, Connecticut. We are ISO 9001 certified, having received ISO 9001 Quality Systems Certification in April, 1997.
We are a profitable, privately held company, founded in 1986 and incorporated in the State of Delaware. As of April 2011, we are a Women Owned business, certified through the Woman Owned Small Business Program run by the United States SBA. Our five-year projections show continued growth through the introduction of new products and product innovations. All service is handled factory direct. Sales are handled direct and by selected manufacturers representatives and distributors worldwide.
At Environics, we are dedicated to customer service before, during and after your system is built. We stand by our systems and believe in building long-term relationship.
---