Normobaric Hypoxia Units for Training & Research
Featured Product from Environics, Inc.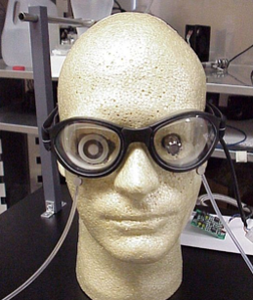 Hypoxia-Related Research Applications
Environics units are a powerful tool in hypoxia related research. Scientists have successfully used the ROBD2 (Licensed from U.S. Navy under U.S. Patent Application No. 10/959.764) as well as custom Blended Gas On Demand systems (such as the ReDO2) to examine hypoxia itself as well as how placing someone in a hypoxic state could be a useful diagnostic tool clinically.
To see some recent research topics that have appeared in peer-reviewed publications, including a recent study entitled, "Uncovering Latent Deficits Due to Mild Traumatic Brain Injury by Using Normobaric Hypoxia Stress" and a review of the potential use of the ROBD2 to evaluate the need for supplmental oxygen in flight for at risk commercial plane passengers, see our research applications page.
Another customized variation, the RODD, was designed to determine if fighter pilots could fly shortly after Lasik eye surgery. Using a variable oxygen concentration, testing was done with mannikins with one eye socket containing an O2 sensor and the other housing a hygrometer probe (see image). In addition to testing reduced oxygen, the system had a humidifier to test subjects with and without humidity.
The systems enables the operator to adjust the delivered oxygen content from 21% oxygen down to 4.4% or anywhere within that range. The system has an integrated pulse oximeter and oxygen analyzer as well as an emergency oxygen dump switch for delivery of 100% oxygen. Customization of our systems is always possible.
Flexibility: Environics' systems automatically blend and dilute gases to generate precise oxygen concentrations. The oxygen level can be varied in response to your commands anwhere from 21% down to 4.4%.
Accuracy: Our gas mixing technology is based on very precise control of thermal mass flow controllers. Normally, thermal mass flow controllers offer an accuracy +/- 1% of full-scale flow. However, when combined with Environics computerization and calibration, this accuracy specification is improved to +/- 1% of setpoint. The Full-scale error vs. Setpoint error document shows the 10x improvement in accuracy of a thermal mass flow controller when using Environics controlling technology.
Repeatability: Our systems have a repeatability of +/-0.05% of full scale.
Custom Systems: We have thousands of systems in the field and have developed an extensive library of applications and solutions to meet our customers' needs. Other optional features, such as audible/visual alarms, are available to best suit your needs.
Follow us on:
Meet Environics! Check out this short video on our available products. We design, manufacture and sell gas flow instrumentation, specializing in customizing our units to fit the needs of our customers
Environics
Environics is a world leader in computerized gas flow instrumentation. Our headquarters for design, manufacturing, sales and service is located in a modern 11,000 square foot facility in Tolland, Connecticut. We are ISO 9001 certified, having received ISO 9001 Quality Systems Certification in April, 1997.
As of April 2011, we are a Women Owned business, certified through the Woman Owned Small Business Program run by the United States SBA. Environics was awarded the 2020 Family Business of the Year by the CT District SBA based on our growth over the past 15 years.
We encourage you to challenge us with your most difficult requirements. We specialize in custom systems. We have thousands of systems in the field and have developed an extensive library of applications and solutions to meet our customers' needs. The application of our technology has enabled us to become the world leader in user-friendly computerized gas flow instrumentation.
At Environics, our team is dedicated to customer service before, during and after your system is built. We stand by our systems and believe in building long-term relationships with our customers.