Ozone Transfer Standard / Multi-Gas Calibrator
Featured Product from Environics, Inc.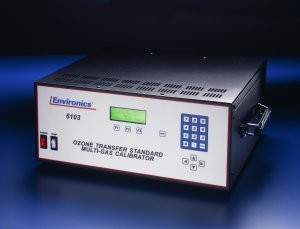 Series 6103
Ozone Transfer Standard / Multi-Gas Calibrator
The Environics® Series 6103 Ozone Transfer Standard / Multi-Gas Calibrator is a computer controlled, state-of-the-art instrument for dynamic multi-point calibration of ambient air analyzers.
The Series 6103 automatically performs zero, precision, span and multi-point calibrations using NO, NO2, SO2, CO,O3, hydrocarbons and other gases of interest. The 6103 meets or exceeds all U.S. Environmental Protection Agency requirements.
The Series 6103 consists of a single chassis supporting up to 3 thermal mass flow controllers, an ozone generation module, photometer, glass output manifold, mixing chamber, a reaction chamber for gas phase titration, and control electronics.
Commands are entered from the front panel and displayed on a backlit 4 line by 20 character liquid crystal display. The instrument may also be remotely operated using contact closures or the RS-232 serial data interface, both are standard in the Series 6103. LEADS compatibility allows seemless integration of Environics calibrators into your existing collection system. LEADS is a commercial system for collecting, integrating, and processing meteorological, air quality, and water quality data.
The 6103 comes standard with two mass flow controllers, but a third can be added to support a larger range of dilutions. The mass flow controllers are calibrated to a NIST (National Institute of Standards and Technology) traceable primary standard. The calibration data consists of a comparison of desired versus actual flow over the full dynamic range of the instrument with linear interpolation between points. Calibration data is stored in non-volatile memory and may be updated by the user with a suitable standard.
The internal ultra-violet (UV) based ozone generator is temperature controlled and includes a precision photo-optical feedback circuit to compensate for lamp aging effects providing stable ozone generation. The ozone generator is factory calibrated using a NIST traceable photometer standard.
Environics
Environics is a world leader in computerized gas flow instrumentation. Our headquarters for design, manufacturing, sales and service is located in a modern 11,000 square foot facility in Tolland, Connecticut. We are ISO 9001 certified, having received ISO 9001 Quality Systems Certification in April, 1997.
As of April 2011, we are a Women Owned business, certified through the Woman Owned Small Business Program run by the United States SBA. Environics was awarded the 2020 Family Business of the Year by the CT District SBA based on our growth over the past 15 years.
We encourage you to challenge us with your most difficult requirements. We specialize in custom systems. We have thousands of systems in the field and have developed an extensive library of applications and solutions to meet our customers' needs. The application of our technology has enabled us to become the world leader in user-friendly computerized gas flow instrumentation.
At Environics, our team is dedicated to customer service before, during and after your system is built. We stand by our systems and believe in building long-term relationships with our customers.