ROBD Simulator Accessory Package
Featured Product from Environics, Inc.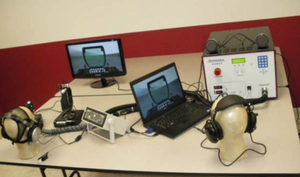 Download the Simulator Accessory Package Manual
ROBD Simulator Accessory Package
The ROBD Simulator Accessory Package will simplify the set-up of the ROBD into your flight training/simulating program. The accessory package was designed to guarantee proper integration of all components with the ROBD2 or ROBD3 system (full list of included components below). Step by step instructions are provided for connecting the power, audio and video sources, for the SUT, the instructor monitoring the test and additional personnel who wish to observe.
The package includes the following:
Laptop computer with neoprene storage case
19" monitor (size is for portability, larger monitors available at an additional charge)
X-Plane software
Radio-panel module
Joystick - throttle package
4 place stereo intercom
Instructor headset with microphone
Student headphones
External Speakers for demonstration purposes
Custom shipping case
Simulator Accessory Package Operator's Guide
Follow us on:
Meet Environics! Check out this short video on our available products. We design, manufacture and sell gas flow instrumentation, specializing in customizing our units to fit the needs of our customers
Environics
Environics is a world leader in computerized gas flow instrumentation. Our headquarters for design, manufacturing, sales and service is located in a modern 11,000 square foot facility in Tolland, Connecticut. We are ISO 9001 certified, having received ISO 9001 Quality Systems Certification in April, 1997.
As of April 2011, we are a Women Owned business, certified through the Woman Owned Small Business Program run by the United States SBA. Environics was awarded the 2020 Family Business of the Year by the CT District SBA based on our growth over the past 15 years.
We encourage you to challenge us with your most difficult requirements. We specialize in custom systems. We have thousands of systems in the field and have developed an extensive library of applications and solutions to meet our customers' needs. The application of our technology has enabled us to become the world leader in user-friendly computerized gas flow instrumentation.
At Environics, our team is dedicated to customer service before, during and after your system is built. We stand by our systems and believe in building long-term relationships with our customers.