Hypoxia Training and Research Device - ROBD2
Product Announcement from Environics, Inc.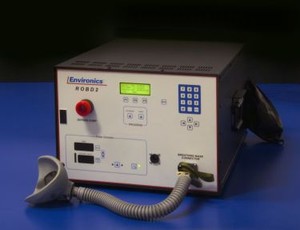 The Environics® Series 6202 Reduced Oxygen Breathing Device 2 simulates altitude exposure and can be utilized for both research and hypoxia training.
NEW! The Environics® Reduced Oxygen Breathing Device 3 is the next generation system. Learn more about the enhanced features to be included in the new ROBD3. To be notified of the release of the ROBD2 retrofit package and the release of the ROBD3, click here.
Download Full Datasheet for Series 6202 (pdf)
Click here to order the ROBD2 through the GSA Schedule, Contract Number GS-07F-0755X.
The U. S. Navy currently uses the ROBD 2 to train aircrew to recognize the signs and symptoms of hypoxia and to perform the appropriate emergency procedures and additionally, conducts hypoxia research.
The ROBD 2 uses Thermal Mass Flow Controllers (MFC) to mix breathing air and nitrogen to produce the sea level equivalent atmospheric oxygen contents for altitudes up to 34,000 feet. The MFC's are calibrated on a primary flow standard traceable to the National Institute of Standards and Technology (NIST). The ROBD 2 introduces pressure changes and gas expansion as a function of altitude. Several safety features are built into the device: prevention of over pressurization of the subject's mask, prevention of reduced oxygen contents below those being requested for a particular altitude and an emergency dump switch that will supply 100% O2 to subjects. The software is menu driven. The main operators menu consists of three selections, simplifying the use of the system for the field operator. Built-in self-tests verify all system component functionality before the operation of the system can begin. If any self-test fails the system will not operate. The system is designed to work with bottled gases.
Environics offers an optional ROBD2 Simulator Accessory Package to simplify setup of a fully integrated system.
FEATURES OF THE ROBD2
0-34,000 feet elevation
21% oxygen to 4.4% oxygen
Integrated pulse oximeter
Integrated oxygen analyzer
Emergency Oxygen dump switch for delivery of 100% oxygen
OPTIONS
Wheeled shipping case with dual handles, One-piece construction, molded from lightweight, high-impact polyethylene
Dual stage regulators with braided hoses
Additional pulse oximeter probes, sensors
ROBD APPLICATIONS
Aircrew training and research
Application Document: US Navy - Mask-On Hypoxia Training for Tactical Jet Aviators (PDF)
Application Document: Hypoxia Recognition and Recovery Training for Commercial Pilots and Cabin Crew (Powerpoint)
Referencesin Scientific Literature
Clinical research
High altitude training and research
Medical stress testing
Hypoxia Simulator
SPECIFICATIONS
Power Input: 110 to 240 VAC
EMI / RFI protected
Gas inputs:
Standard: 1/4" FNPT
Pressure: Nitrogen and air: 40 psig
Oxygen: 20 psig
Optional: Rear panel quick disconnect fittings with SS braided hoses and regulators
Regulator fittings
Gas input color codes
Nitrogen: CGA 580 (BLACK)
Air: CGA 346 (YELLOW)
Oxygen: CGA 540 (GREEN)
Communications: RS232
Capacity: One Subject Under Test (SUT) at a time.
Oxygen Dump: 100% oxygen dump switch to be activated by the operator.
Pulse oximeter:
Built in displays for both pulse and SpO2
User selectable alarm settings
Finger tip probe or Y sensor with ear clips
SpO2 (Oxygen Saturation)
Range: 0-100%
Accuracy: (for 1 standard deviation or 68% of sample distribution)
/- 2% SpO2 (for 80-100% SpO2)
Unspecified for 0-79%
Display Resolution: 1%

Pulse Rate
Range: 30-250 beats per minute (bpm)
Accuracy: /- 1% of full scale (for 1 standard deviation or 68% of sample distribution)
Display Resolution: 1 bpm

Oxygen sensor:
Range: 1 - 100% oxygen
Accuracy: Less than /- 1.0% oxygen at constant temperature and pressure
(when calibrated in air and 100% oxygen)
Resolution: 0.1% oxygen

Output range: User programmable for altitude / oxygen concentration and duration at each step

Altitude range: 0 ft (21% oxygen) to 34,000 ft (4.4% oxygen)
Incremental adjustment of altitude: 1 foot
Maximum ascent/descent rate: 60,000 feet per minute
Minimum ascent/descent rate: 1 foot per minute

Breathing mask connector: MS 22058-2

Dimensions:
Height: 12.0" (30.48 cm)
Width: 17.5" (44.45 cm)
Length: 23.5" (59.69 cm)

Weight: 55 lbs (20.4 kg)

Electrical Requirements:
Voltage: 110-240 VAC ( /- 10%), 50/60 HZ
Power consumption: 55 watts

Performance Temperatures:
15° C to 35° C

Storage Temperature Range
-10° C to 50° C
Environics is a world leader in computerized gas flow instrumentation. Our headquarters for design, manufacturing, sales and service is located in a modern 11,000 square foot facility in Tolland, Connecticut. We are ISO 9001 certified, having received ISO 9001 Quality Systems Certification in April, 1997.
We are a profitable, privately held company, founded in 1986 and incorporated in the State of Delaware. As of April 2011, we are a Women Owned business, certified through the Woman Owned Small Business Program run by the United States SBA. Our five-year projections show continued growth through the introduction of new products and product innovations. All service is handled factory direct. Sales are handled direct and by selected manufacturers representatives and distributors worldwide.
At Environics, we are dedicated to customer service before, during and after your system is built. We stand by our systems and believe in building long-term relationships with our customers.
What can an Environics system do for you?
Do you have a question regarding an Environics system?

Are you interested in learning more?

Do you need more information regarding a custom project?

Our team would be happy to help you get the system you need!
---