Stand-Alone Zero Air Generator
Featured Product from Environics, Inc.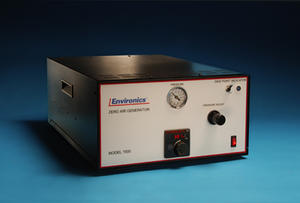 Download Full Datasheet for Series 7000 (pdf)
Series 7000 Stand-Alone Zero Air Generator
The Environics® Series 7000 Zero Air Generator is an ultra high purity air generator system that is capable of continuous delivery of up to 20 standard liters per minute (SLPM), 30 pounds per square inch (PSI) of dry, contaminant-free air. The ZAG is a powerful stand-alone unit, so there is no need for you to worry about an external compressed air supply or dangerous and expensive gas cylinders.

The air is suitable for use as: a zero reference calibration gas, ultra-pure combustion air for flame ionization detector (FID), and service air for pneumatically operated valves. The system is capable of delivering air free from water vapor, particulates, sulfur dioxide (SO2), Hydrogen Sulfide (H2S), Oxides of Nitrogen (NO), Nitrogen Dioxide (NO2), Ozone (O3), Carbon Monoxide (CO) and Hydrocarbons (HC).
The state-of-the-art PSA molecular sieve removes water and produces air with a dew point of less than -30°C. An adjustable drain interval negates the potential of excess water build-up. The Series 7000 is available with an optional dew point transmitter.
The Zero Air Generator now includes a color-changing moisture indicator (visible on the front panel, see updated P&ID below). If water vapor is present, the indicator will change from white to blue. When the water vapor is removed, the indicator will revert to its white color.
Environics
Environics is a world leader in computerized gas flow instrumentation. Our headquarters for design, manufacturing, sales and service is located in a modern 11,000 square foot facility in Tolland, Connecticut. We are ISO 9001 certified, having received ISO 9001 Quality Systems Certification in April, 1997.
As of April 2011, we are a Women Owned business, certified through the Woman Owned Small Business Program run by the United States SBA. Environics was awarded the 2020 Family Business of the Year by the CT District SBA based on our growth over the past 15 years.
We encourage you to challenge us with your most difficult requirements. We specialize in custom systems. We have thousands of systems in the field and have developed an extensive library of applications and solutions to meet our customers' needs. The application of our technology has enabled us to become the world leader in user-friendly computerized gas flow instrumentation.
At Environics, our team is dedicated to customer service before, during and after your system is built. We stand by our systems and believe in building long-term relationships with our customers.