Stand Alone Permeation System
Featured Product from Environics, Inc.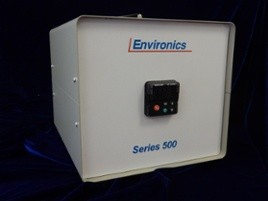 Stand Alone Permeation System
The Series 500 Stand Alone Permeation System is an exciting new product from Environics. The standard configuration is a passive system. The oven allows for single or multiple disposible permeation tubes.
The system is extremely reliable, with accurate and stability of the temperature within 0.1oC. The temperature can be anywhere from room temperature to 50oC.
A small footprint and light weight makes the Series 500 convenient while adjustments are easy to make with the simple panel mounted controls.
As with all Environics systems, the Series 500 is built to order and can be customized to fit your exact needs. Some available options include:
Check out the Top 5 Maintenance Tips from our Service Department!
Environics' Gas Flow Management Options
We encourage you to challenge us with your most difficult requirements. We specialize in custom systems and offer a number of options to customize your system to fill your exact needs.

Environics, Inc.
Environics, Inc. is a world leader in computerized gas flow instrumentation, with headquarters for design, manufacturing, sales and service in Tolland, Connecticut. Founded in 1986, Environics, Inc. currently employs 21 employees. Utilizing Environics innovative technologies, systems offer an exceptionally high level of accuracy and repeatability. Thousands of Environics' systems are currently in the field. In addition to uses in standard applications, the company has developed an extensive library of custom designed systems and solutions to meet customers' needs.