Epilog Users Create Personal Protective Equipment
Featured Product from Epilog Laser Corp.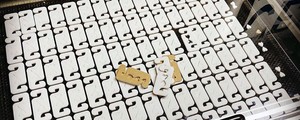 Laser operators shift focus to aid healthcare workers and community members.
Since the COVID-19 pandemic started, we have seen so many customers, distributors and even Epilog employees using their machines to create much-needed personal protective equipment, not only for healthcare professionals, but for their communities as well.
It has been so incredible to see our users come together in this way. Below are just a handful of stories and projects we have seen rolling in. If you are creating PPE with your Epilog Laser machine, message Amy Dallman so we can include you here! Continue reading.