FiberMark Fiber Laser System
Product Announcement from Epilog Laser Corp.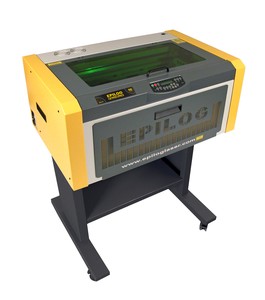 Featuring a generous 12" by 24" engraving table and open software architecture, the FiberMark allows users to quickly and easily incorporate permanent marking solutions into their business.
The innovative flying optics motion control system delivers a high quality beam over the entire work surface. Incorporating the highest quality components the FiberMark is a long lasting, industrial laser system.
Mark 2D and data matrix bar codes, serial numbers, logos and text directly on metal and plastics with this affordable system.
View all the features and benefits of a FiberMark system!
Request a brochure, CD-demo and samples!
"Permanent marking on tools and products is increasingly in demand by all types of businesses," said Mike Dean, director of sales and marketing for Epilog. "With the fiber laser's extremely long operational life, lack of required maintenance, and relatively low cost compared to traditional YAG laser systems, we've seen an incredible interest level in bringing the FiberMark to market."
The FiberMark easily marks on almost all types of metal, including
Titanium
Brass
Aluminum
Carbide
Steel
...and more!
Permanent marks of all kinds are becoming more and more necessary on various products. Fiber lasers, because of their extremely long operational life, lack of required maintenance or alignment and relatively low cost, are rapidly becoming the marking method of choice for industrial marking applications. Non-contact fiber laser marking is a perfect choice because it:
Does not affect the integrity of the part
Produces a high-contrast permanent mark
Requires almost no maintenance
Can be operated form almost any Window's based software
Is exceptionally easy-to-use
---