Linear Encoders - Epilog Laser Systems
Featured Product from Epilog Laser Corp.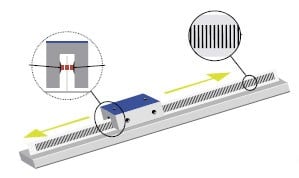 If you've ever watched an Epilog laser system engraving at 100% speed, you quickly realize that there must be some pretty sophisticated engineering available to move the system so fast and fire the laser at such high speeds. When the engraving is finished and you take a close look at the quality of the engraved piece, you quickly realize that it's not just sophisticated - it's astounding!
Is it really that good? One of the reasons the Epilog lasers are recognized as producing the best engraving quality is their use of linear encoders. In fact, Epilog is the only manufacturer of "desktop" laser systems that incorporated this astounding technology into every system they manufacture.