Optional Lenses For More Laser Etching Options
Product Announcement from Epilog Laser Corp.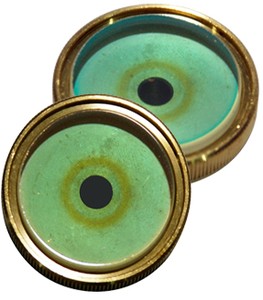 Epilog's FiberMark system comes with a standard three-inch focus lens. This will suffice for most metal/plastic marking applications.
However, users will find some applications require our more specialized 1.5- and 5- inch lenses.

1.5" lens:
Provides an additional 1.5" of z-axis clearance for both engraving flat stock and for rotary use (primary use).
1.5" lens also has a smaller spot size and provides excellent detailed engraving for smaller text/artwork.
5" lens:
Offers more depth of field than our standard 3" lens. Amount of depth of field will vary depending on material, wattage and type of desired mark.
Provides consistent engraving/marking on curved surfaces or slightly bowed surfaces.
Excellent for engraving on the inside/bottom surface of an item (bowl, box, tooling) up to 5" tall.
---