Rotary Laser Attachments for Cylindrical Parts
Featured Product from Epilog Laser Corp.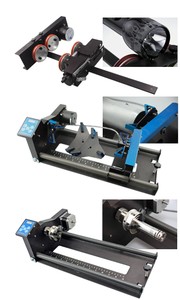 When you're looking for highly-accurate marking of cylindrical parts, you have three choices with the FiberMark Laser system: our Standard Rotary, the 3-Jaw Chuck Rotary Attachment, and a Chuck-Style Rotary. Whether you are running custom, one-of-a-kind markings or one-offs of a design, the Rotary Attachment is an indispensable tool that allows designers and manufactures to mark cylindrical parts, pieces and components more conveniently than ever before.
The high-quality construction of the Standard Rotary will ensure all of your parts receive a professional mark that meets the highest standards. Fully programmable for a wide variety of diameters, the Epilog 3-Jaw can accommodate a significant range of material sizes. Additionally, the available tail-stock support fixture ensures correct focus on longer items.
360 degree rotational capabilities - Create one continuous mark around the entire circumference of the part.
Ability to mark in raster or vector modes- depending on the design to be marked, the ability to choose between raster and vector engraving can greatly increase the speed at which a mark is created.
Fixture on the part inside diameter or outside diameter allows you to mark large and uniquely-shaped items.
Tail stock support available to ensure long and heavy items stay in place during the marking process.