Wood Engraving with Epilog CO2 Lasers
Featured Product from Epilog Laser Corp.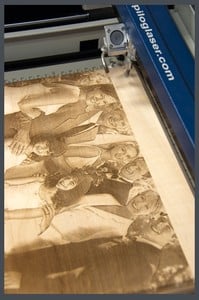 Wood engraving is one of the most popular applications for the laser because it can encompass so many different products. From cabinetry to photo frames to knife handles, Epilog's laser systems are used in almost every woodworking category you will run across.
Click here to request more information plus a CD demo and samples!
Picture frames, photo albums, desk sets, cabinets, and more - the possibilities are virtually limitless. Visit our sample club to learn more about the type of wood projects that are created and/or enhanced by Epilog Laser systems!
Zing Starter Series: The Zing Laser Starter Series is Epilog's small format, high quality engraving line. Perfect for everything from home use to starting a business, the Zing Laser features high-quality engraving, at the low cost you're looking for.
Epilog Mini 18 - If you're looking for a machine loaded with features that also comes at a low price, then the Epilog Mini 18 is exactly what you are looking for. The Mini 18 comes loaded with features, including the Air Assist, Auto Focus, Integrated Vector Grid/Vacuum Table and more!
Epilog Mini 24 - With even more included features and a larger workspace than the Mini 18, the Epilog Mini 24 is perfect for customers looking for a machine that is suitable for nearly any job.
Epilog Helix - If you're looking to maximize your engraving area with a table that will hold items up to 24" x 18" and with the ability to drop down the table an incredible 11", then the Epilog Helix is the answer for you!
Epilog Legend EXT - When you're looking at large engraving jobs, Epilog's top-0f-the-line Legend 36EXT provides you with the tools you need. The robust construction of the EXT combined with the 36" x 24" (914 x 609 mm) work area, provides you with an oversized work area to meet your needs on any project.