Durable, Strong-Bonding Epoxy Adhesive
Product Announcement from Epoxies Etc...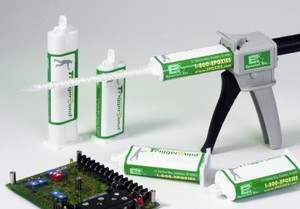 Epoxies Etc's new 10-3216 is an easy to use epoxy adhesive with high peel and shear strength. Unlike many other epoxy adhesives it is not brittle and will not crack.
It remains flexible and retains its strong bond. It can be used with metals, woods, plastics, rubbers and masonry products. 10-3216 is formulated for electronic, aerospace and industrial applications.
FEATURES:
· Easy 1:1 mix ratio and available in TriggerBond®
· Bonds stronger than most commercially available epoxies
· Excellent retention of strength after environmental aging
· Excellent for cryogenic bonding
· Suitable for many aircraft and aerospace applications
· Resistant to shock, vibration and flexing.
10-3216 is available in a low viscosity Translucent version and a high viscosity Gray version.
---