Flexible Polyurethane Potting Compounds
Product Announcement from Epoxies Etc...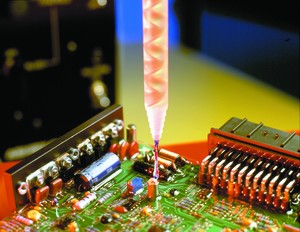 Epoxies, Etc. introduces three new potting compounds.
The new Elastomeric Polyurethane Potting Compounds, 20-2101, 20-2060 and 20-2080 are formulated with natural oil based polyols that are obtained from a plant source. In addition to being derived from a renewable resource, they are also free of any Volatile Organic Compounds (VOCs).
These low durometer products range in hardness from a gel to Shore A 80. They have excellent dielectric properties and are ideal choices for the potting, casting, and encapsulating of printed circuit boards, components, and power devices.
This series of products also offer:
Low toxicity
Low viscosity
Excellent moisture resistance
Vibration resistance
Low stress on sensitive electronic components
Low shrinkage and low exotherm
Availability in the convenient TriggerBond® system
Call today to discuss your application with an experienced technical representative. Samples are readily available. Visit www.epoxies.com .
---