See Video – TriggerBond, by Epoxies, Etc.
Product Announcement from Epoxies Etc...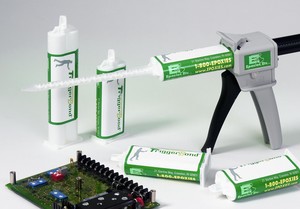 The TriggerBond® dispensing system from Epoxies, Etc... eliminates the often messy process of mixing two component epoxy adhesives, ensures proper mixing ratios, protects employees from direct contact with resins and eliminates waste of materials not used within their worklife.
TriggerBond® is the perfect solution for two component materials supplied in quarts, gallons or 5 gallon pails that require transfer of the resin and catalyst in the correct ratios into a mixing cup, then hand mixing, and transferring again into a dispensing container.
Typical Applications include:
Bonding
Sealing
Potting
Encapsulating
Clear Doming
And...with TriggerBond®, the cost of purchasing expensive meter, mix and dispense equipment is no longer necessary.
Epoxies, Etc... packages many of our their component adhesives and potting compounds in this convenient, safe, reliable, and easy to use mixing and dispensing system.
KEY BENEFITS:
Eliminates improper ratios and mixing errors
Reduces material waste
Eliminates employee contact with resins
Eliminates messy hand mixing and transferring
Increases productivity
Resins are protected from moisture contamination
Saves time
The TriggerBond® system consists of a hand held dispenser, dual barrel cartridge, and a plastic static mixer. The TriggerBond® cartridges are available in 50ml, 75ml, 200ml and 400ml sizes.
Contact Epoxies, Etc... today or complete our Product Selection Form if you need help selecting a TriggerBond product for your application.
---