EPO-TEK® MED-301, ISO 10993 Tested/Fully Compliant
Featured Product from Epoxy Technology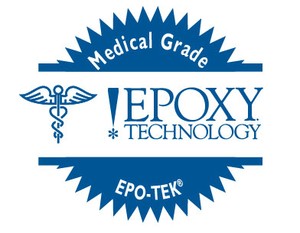 EPO-TEK® MED-301 is a biocompatible, spectrally transparent, very low viscosity, room temp curing epoxy. Characteristics are: self-leveling, short pot-life, and ease of application, either by dispensing or manual operation. EPO-TEK® MED-301 is used often in molding headers in pacemakers, cochlear implants and neurostimulator implants, as well as bonding in many other types of medical devises. When longer pot-life, lower stress and large-scale manufacturing is needed, EPO-TEK® 301-2 can usually be interchanged.
Biocompatibility Approvals
EPO-TEK® MED-301 cured at 65°C for 1 hour has been tested and is ISO 10993 Certified, meeting Hemolysis (10993-4), Cytotoxicity (10993-5), Implantation (10993-6) for two weeks, and also for twelve weeks, Intracutaneous (10993-10), Sensitization (10993-10) and Systemic Toxicity (10993-11) test protocols.
Selected Applications
Fiber and Electro-Optics:
Impregnating fiber optic image bundles and light guides; adhesive for flexible endoscopes; adhesion to Vyton® rubber and plastic optical fibers
Transmission of VIS and NIR light signals in camera/video electro optics
3D Dentistry camera and imaging tools
General, all-purpose fiber optic assembly and repair adhesive
Radiation and Imaging
Adhesive for scintillator crystal array fabrication
Opto-underfills between scintillator and photodiode array, for medical/dental imaging equipment
Ultrasound/Ultrasonic
Adhesive for catheter delivered surgical mapping and imaging catheters
Front-end ultrasound fabrication adhesive responsible for PZT arrays
General all-purpose ultrasound probe repair adhesive
Life Sciences and MicroFluidics
Enabling microfluidic drug delivery via catheter devices; micro-motors and ultrasonics for sensing liquid and gas flow rates
Adhesive for active optical alignment in spectrophotometry, fluoroscopy and microscopy
General adhesive for specialized diagnostic equipment
Device and Diagnostics
Potting resin over LD and PD chips in pulsed oximetry
Adhesive for gas analyzers, flow meters, pressure and pH monitoring catheters
Fabrication of glucose sensors; implantable or external
Potting, over-coating and weather proofing for activity trackers (wearable devices including fitness watches)
Patient monitoring electrodes and cables including: ECG and temperature probes
Implantable Devices
Molding headers over implantable microelectronic packages in ICDs, pacemakers and cochlear implants
Potting Cu coils and motors used in LVAD and BiVAD blood pumps
Adhesive for ophthalmic implants; plastic bonding in intraocular lens (IOL), septum bonding and final assembly for diabetic implants; gluing bio-polymers used for IOP drainage; smart drug delivery of pharmaceuticals
Header potting for neurostimulators/neuromodulators used for epilepsy, Parkinson's, pain management and sleep apnea control
Surgical Tools
Hand held UV cure light guide for curing dental fillings
Potting PCBs into metals shafts of hand-held orthopedic instruments
Laser optics (surgical tool for optometry)
Adhesive for neurovascular surgical probes, electrodes and delivery systems.
Fabrication of Rf Ablation catheters with structural bonding to PEEBAX®