EPO-TEK® MED-353ND, ISO 10993 Fully Compliant
Featured Product from Epoxy Technology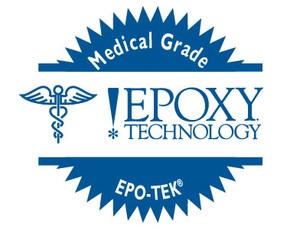 EPO-TEK® MED-353ND is a biocompatible, high temperature, high Tg, and high strength epoxy with high chemical and moisture resistance. It has decades of use and reliability in medical device designs worldwide. EPO-TEK® MED-353ND has high adhesion to SST, titanium, ceramics, glass and most plastic.
Biocompatibility Approvals
EPO-TEK® MED-353ND cured at 150°C for 1.5 hours has been tested and is ISO 10993 Certified, meeting Hemolysis (10993-4), Cytotoxicity (10993-5), Implantation (10993-6) Intracutaneous (10993-10), Sensitization (10993-10) and Systemic Toxicity (10993-11) test protocols.
Selected Applications
Fiber and Electro-Optics
Impregnating and terminating fiber optic image bundles and light guides, adhesive for flexible endoscopes, adhesion to plastic and glass optical fibers, structural and near hermetic sealing of glass, ceramic and metals
Manufacture of all kinds of endoscopes, such as, laryngoscopes, gastroscopes, broncho-scopes and micro ophthalmoscopes; healthcare optics for colonoscopy, urology, and otolaryngology
Imaging Technologies
OCT using NIR laser for cardiac and ophthalmic imaging
Endoscopy with camera and video interface
Ultrasound imaging, capsule endoscopes for GI tract viewing and monitoring
Temperature probes integration, subcomponent bonding and final assembly of MRI and CT machines
Ultrasound / Ultrasonic
Adhesive for catheter delivered surgical mapping. 3D imaging and mapping catheters; catheter ultrasound for cardiac therapy, such as AFib treatments
Front-end ultrasound fabrication adhesive responsible for PZT arrays
Back-end PZT processes enabling transducers, ultrasound probe repair adhesive
Life Sciences and MicroFluidics
DNA and gene sequencers, readers and amplification circuits
Potting, over-coating and weather proofing, fitness style wrist watches and wearable devices
Device and Diagnostics
Sensor integration and subcomponents for respiratory, anesthesia, vapor and suction; gas and liquid flow monitoring
SpO2 patient monitoring; capnography, gas analyzers and flow meters
Widely used adhesive for pressure and pH monitoring catheters
Implantable Devices
Subcomponents for Ventricular Assist Devices (VAD) fabrication including pumps, coils and magnets
Adhesive for ophthalmic implants; plastic bonding in intraocular lens (IOL)
Micro sensors for intraocular pressure
Hearing aids and implants; acoustic circuits and structural assembly
Enabling neurostimulator technologies used for sleep apnea, bladder control and other conditions
Adhesive for pacemakers, ICDs and IPGs
Neurovascular implants treating aneurysm, stroke, epilepsy and Parkinson's Disease
Surgical Tools
High power laser optics for general, reconstructive and cosmetic surgery
Dental device adhesive, lighting or hand instrument
Adhesive for neurovascular surgical delivery systems and coils for treating aneurysms
Fabrication of Rf Ablation catheters, electro-surgical tool for tissue removal
Laser for peripheral artery disease (PAD); atherectomy technologies
Impregnating coil motors in orthopedic bone saws