EPO-TEK® MED-OG198-54 ISO 10993 Fully Compliant
Featured Product from Epoxy Technology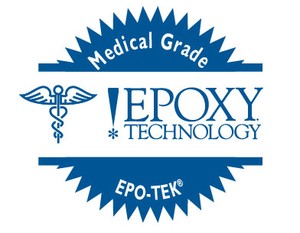 EPO-TEK® MED-OG198-54 is a biocompatible, clear, low viscosity, high Tg, high strength, cationic/epoxy UV curing adhesive. It has capillary wicking and is capable of reach shadowed regions using an oven post cure. It is used in many types of surgical and dental tools, fiber optic laser, active optics and lenses.
Biocompatibility Approvals
EPO-TEK® MED-OG198-54 cured with UV for 5 minutes has been tested and is ISO 10993 Certified, meeting Hemolysis (10993-4), Cytotoxicity (10993-5), Implantation (10993-6) Intracutaneous (10993-10), Sensitization (10993-10) and Systemic Toxicity (10993-11) test protocols.
Selected Applications:
Fiber and Electro-Optics
Adhesive in fiber optic lasers whether diagnostic probes, mammography surgical tools, biopharmaceutical spectroscopy and photodynamic therapy (PDT)
Imaging Technologies
Sealing glass plates, TCO's and films in digital radiography imaging applications
Active alignment of optics for catheter delivered
OCT - essentially opto-ultrasound
Device and Diagnostics
Sensor integration and subcomponents for respiratory, anesthesia, vapor and suction; gas and liquid flow monitoring
SpO2 patient monitoring; capnography, gas analyzers and flow meters
Widely used adhesive for pressure and pH monitoring catheters
Implantable Devices
Subcomponents for Ventricular Assist Devices (VAD) fabrication including pumps, coils and magnets
Adhesive for ophthalmic implants; plastic bonding in intraocular lens (IOL)
Micro sensors for intraocular pressure
Hearing aids and implants; acoustic circuits and structural assembly
Enabling neurostimulator technologies used for sleep apnea and bladder control
Adhesive for pacemaker devices, ICDs and IPGs
Neurovascular implants treating aneurysm, stroke, epilepsy and Parkinson's Disease
Surgical Tools
High power laser optics for dental
Dental device adhesive, lighting or hand instrument
Adhesive for neurovascular surgical delivery systems and coils for treating aneurysms
Fabrication of Rf Ablation catheters
Laser for peripheral artery disease (PAD); atherectomy technologies
Microsurgical instruments for ophthalmology