EPO-TEK® Selector Guide
Product Announcement from Epoxy Technology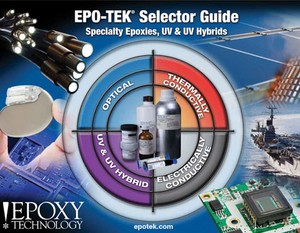 Epoxy Technology, Inc. (EPO-TEK®) announces the newest version of its product selector guide. This piece provides a full range of electrically & thermally conductive, thermally conductive/electrically insulating, optical/fiber optic, UV curing and UV hybrid epoxy adhesives. The selector guide allows users to easily select the optimal adhesive for their specific application; based on the best combination of physical, electrical and mechanical characteristics.
EPO-TEK electrically & thermally conductive materials have been used successfully for 50 years in a wide variety of applications including: IC packaging, hybrid microelectronics and circuit assembly as well as today in solar cell assembly, LEDs and high power management.
EPO-TEK thermally conductive products are unparalleled in their performance in effectively removing heat, providing increased dielectric strength and protecting circuits from hostile environments.
EPO-TEK optical adhesives are frequently used to bundle optical fibers and bond components in optoelectronic devices such as: telecommunication networks, aircraft, satellites as well as medical and scientific instruments.
EPO-TEK offers an exclusive line of high performance UV curing & UV hybrid products based on both epoxy and acrylate systems. These unique UV formulations provide superior performance with short cure times on a wide variety of applications.
---