Extensive Line of Specialty Hybrid Adhesives
Featured Product from Epoxy Technology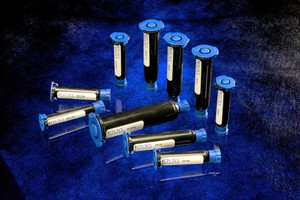 Joan Bramer, Global Sales & Marketing Director says, "We, at Epoxy Technology, Inc., are delighted to bring this new level of adhesive performance to the market. Our formulators were able to provide these new adhesives, which offer a primary UV cure for tacking, followed by a secondary heat cure for completion. This unique combination affords engineering design in areas, once considered not able to be reached with conventional adhesive material."
For design specification ease, we have branded these new products with the "HYB" prefix. Our new UV Hybrid products are based on our widely known and used EPO-TEK 353ND and 301 product lines and are available in a variety of rheologies.
We are developing additional UV, UV Hybrids and UV Dual cure systems, to add to our extensive catalog of specialty adhesives. Celebrating in 2016, our 50 years in the industry, we are very proud of our record of product innovation and exceptional quality, solving even the most challenging customer adhesive applications daily.