What Is Outgassing and How is it Measured?
Featured Product from Epoxy Technology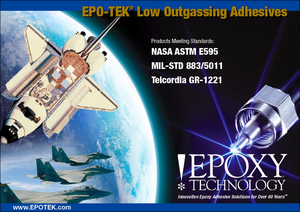 EPO-TEK® Low Outgassing Adhesives
This technical piece details the specifications and appropriate EPO-TEK materials available to meet stringent guidelines necessary in critical designs.
What Is Outgassing?
Outgassing is a measure of the level of residual low molecular weight species (including water if the material is not conditioned in a low moisture environment prior to testing) that can be evolved at elevated temperatures.
How Is It Measured?
One method for measuring levels of outgassing is Thermal Gravimetric Analysis or TGA. This technique measures very small weight changes in a material as a function of temperature. The resultant percent weight versus temperature curve is then used to determine the weight loss or outgassing at specific temperatures. Below is an example of a typical weight loss vs. temperature scan.
What Are The Standards?
NASA ASTM E595
MIL-STD 883/5011
TelcordiaGR-1221
Epoxy Technology Inc.
Since 1966, Epoxy Technology Inc. (EPO-TEK®) has manufactured high quality specialty adhesives for advanced industries worldwide. All Epoxy Technology products are tested thoroughly and consistently in our state-of-the-art laboratories to ensure product reliability.
Epoxy Technology is very proud of its recognized quality program, including comprehensive ISO 9001 and MIL-STD 883/5011 certifications as well as RoHS Compliance and Green Partnerships. As leaders in the industry, superior product quality, exceptional customer service and unsurpassed technical assistance are the foundation of our business.
Epoxy Technology produces a full range of premium epoxy adhesives and coatings for several markets including: Semiconductor, Optoelectronic, Medical, Automotive, Fiber Optics, Photovoltaic, Military/Aerospace and Electronics Assembly