3590VHR Extensometer Calibrator System
Product Announcement from Epsilon Technology Corp.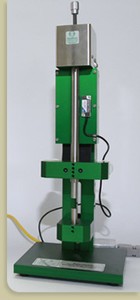 We are very excited about the introduction of the 3590VHR very high resolution calibrator system, and the interferometer system. The laser interferometer greatly increases the accuracy of much of what we measure. This allows calibration of extensometer calibrators as well as extensometers. With an accuracy of 0.5 parts per million, it very closely approaches the measurement accuracy of national standards.
The 3590VHR system allows us to accurately and reliably calibrate our calibrator systems in their entirety. We do not rely only on the calibration of the sensor - the full system is calibrated traceable to NPL (the UK standards organization ), as needed to comply with ASTM and ISO standards. The 3590VHR meets the very stringent requirements of both ASTM E83 and ISO 9513 to the following specifications:
Scale resolution: 20 nm (0.8 microinches)
Scale Accuracy:

±0.19 microns (±7.5 microinches) over any 0.12 mm (0.00475 inch) range
Meets ASTM E83 Class B-1 for a 6 mm gage length and greater extensometers and ISO 9513 Class 0,5 over the full measuring range of the calibrator.
---