LPR2 Ultra Low Pressure Regulator
Product Announcement from Equilibar, LLC.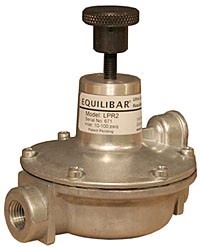 - Controls down to 0.02 psig!
- For low flow and no flow applications
Equilibar introduces a new Ultra Low Pressure Regulator that controls down to 0.5 inH2O (0.02 psig)! Designed for static and very low flow applications, the patent pending LPR-2 design extends the control range well below other commercially available regulators.
Calibrated pressure control ranges are available in 0.5 to 7, 1 to 10, and 1 to 28 inches of water column. Pressures are able to be set with very high resolution and a long term stability of +/-0.06 inches of water in a 7 day period.
The LPR2 is now available with a bleed orifice option, which provides for more stability and responsiveness when lowering the set-point pressure. The standard (very low bleed) option is still recommended for most bottled gas applications to minimize consumption.
View Low Pressure Regulators and Systems
Equilibar is proud to provide precision pressure controls to the most sophisticated and demanding clients worldwide. We specialize in high performance back pressure regulators and vacuum regulators.
We strive for 100% customer satisfaction.. The majority of our customers report that they find our product uniquely capable of fulfilling their demanding application requirements.
We design and manufacture our regulators in Fletcher, North Carolina.
Each application is carefully reviewed by our Senior Applications Engineer; each regulator is hand assembled and pressure testedto assure quality assurance.
---