Regulators for Low Dead-Volume Applications
Product Announcement from Equilibar, LLC.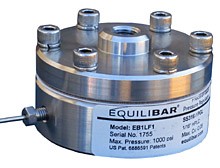 Equilibar offers back pressure regulators in our Instrument Series with extremely low dead volume for use in analytical applications such as High Performance Liquid Chromatography (HPLC). These regulators utilize the 1/16" HPLC industry standard tube fittings also known Valco-style fittings.
The EB1LF1 with 1/8" NPT pipe fittings has approximately 3 ml of dead volume during normal operation. However, with optional 1/16" HPLC (Valco-style) fittings, this unit has only 0.2 ml dead volume.
The EB1LF1 regulator is available in pressures up to 1000 psig with liquid flow rates down to approximately 1 milliliter per hour.
The higher pressure EB1HP1 is also available with Valco-style HPLC fittings with the same low dead volume, with pressures up to 5000 psig. Contact our engineers for a quotation on an Instrument Series regulator with HPLC fittings.
Equilibar is proud to provide precision pressure controls to the most sophisticated and demanding clients worldwide. We specialize in high performance back pressure regulators and vacuum regulators.
We strive for 100% customer satisfaction.. The majority of our customers report that they find our product uniquely capable of fulfilling their demanding application requirements.
We design and manufacture our regulators in Fletcher, North Carolina.
Each application is carefully reviewed by our Senior Applications Engineer; each regulator is hand assembled and pressure tested to assure quality assurance.
---