RS-25 Resonant Scanner
Product Announcement from Equipment Solutions, Inc.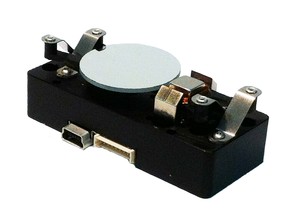 Equipment Solutions has released the RS-25 Resonant Scanner series. A new line of tilting actuators that use the natural resonance affect of a spring-mass system with its leading edge voice coil technology to offer a solution that is extremely compact, uses very low power and has nearly infinite life. This new series of actuators can be equipped with a customer specified mirror having a size less than 25 millimeters. The RS-25 Resonant Scanner can be factory set to resonant at a frequency between 20 and 500 hertz. Depending on frequency setpoint the device can tilt the attached mirror up to ±22.5° mechanical for a total of 90° optical. Mirror position can be monitored with the aid of a fully integrated feedback sensor that is optional. The RS-25 Resonant Scanner is powered and controlled through its standard full speed USB interface.
---