Heavy Duty Cabinets
Featured Product from Equipto Electronics Corporation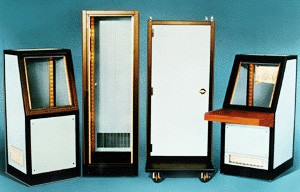 Questions about the difference between Heavy Duty and Challenger? See our comparison page.
Heavy Duty Cabinets
Our top of the line enclosure offers incredible strength and flexibility. Double-ledge double-plane provides support for over 3,000 pounds of equipment per cabinet. The standard cabinet meets many FCC and EMI/RFI attenuation requirements without gasketing and exceeds shock and vibration tests per Mil-Std 901 and Mil-Std 810D. The Heavy Duty line can be hardened for seismic requirements through Zone 4 and EMI/RFI applications through Tempest. Specifying Heavy Duty will ensure your equipment can be placed in the most extreme environments without redesign!
Heavy Duty Enclosures
The Heavy Duty enclosure is made to take on all challenges and can be modified to meet even the most severe applications.
The Heavy Duty product line comes in both vertical racks and sloped front consoles (15 & 30 degree). It is designed with double ledge, double plane corner construction which make it the strongest cabinet in the industry, capable of carrying 3000 pounds of equipment. Because of this special construction, these racks also offer natural, non-gasketed RFI/EMI shielding characteristics.
Special features of this line include side panels that can be removed with a simple one finger latch. Doors can be removed by just opening the door and lifting it off it's hinges. Panel mounting angles use 3/16" steel, 50% thicker than the average used in the industry. Horizontal support channels are removable because of the extreme strength of the frame. Two grounding studs at convenient locations. Positive door latching hardware, not magnetic or velcro stripping, is standard. Additionally, this cabinet lends itself to vinyl gasketing which when applied protects against dust and moisture penetration.
Accessories
Because Heavy Duty is designed to be modular and flexible, a wide variety of accessories are available.
Here is a small sample:
•Wide variety of panels and doors
•Fixed, Sliding and Modem Shelves
•Storage and Equipment Drawers
•Console and Work Writing Shelves
•Caster Bases, Caster Dollies and Trucks
•Fans and Blowers for cooling
•Chassis Guides and Supports
•Copper Bus Bars
•Gasketing
•Power Strips

Panel Heights: 21" to 84", in any 1 3/4" incrementAvailable Sizes
Frame Depths: 17", 24", 29", 36" and 40"
Panel Widths: 19", 24", 30", adapters are available for mounting 23" equipment
Click Here to Visit the Heavy Duty Vertical Rack Product Configurator
Equipto Electronics Corporation is a leading manufacturer of packaging products for the electronics industry. We design and manufacture a wide variety of standard equipment enclosures, from full-size cabinets to sub-racks, at our facility in Aurora, Illinois. Special customer needs are fulfilled by modifications to standard designs or by custom enclosures. As a diverse metal fabricator we have standard product lines, each consisting of multiple variations and accessories, based on the EIA RS-310 standard (often referred to as the 19 inch standard). Many of these products are covered by the company's numerous patents.
Since the company's founding in 1960, our electronic packaging products have been modular in design. This modularity extends well beyond the EIA RS-310 ( 19" ) standard for maximum user flexibility. For example, equipment can be moved from a vertical rack to a sloped front console, work station or instrument cabinet without modification. By adding shelves, drawers, turrets, casters, lift bolts, standard or special panels, outlet strips, fans, blowers, an almost endless list of accessories and other options, our customers can usually create the perfect electronic enclosure out of a catalog of standard products. This saves time and money over a custom packaging solution. Many projects can be manufactured and shipped by Equipto Electronics in just five working days.
In addition, our experienced engineering staff works directly with customers to specify and design enclosures for special situations. Because of the flexibility of our components and our wide variety of standard products, requirements that may seem very special can often be met with relatively minor modification of standard products providing meaningful savings.
While the Equipto Electronics design staff can find solutions to virtually any metal packaging need for electronics, the company has developed special expertise in EMI-RFI shielding and in the robust construction necessary for enclosures to survive major seismic-events. These capabilities make Equipto Electronics a preferred supplier for military, civil government, power utility and other critical electronic applications. The same operational characteristics are also in demand in such fields as scientific research, medicine, oil exploration and transportation systems.
Contact us and you'll discover a responsive team of professionals ready to take on your performance, budget and delivery challenges.