Instrument Cabinets
Featured Product from Equipto Electronics Corporation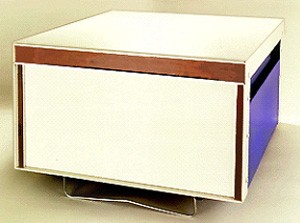 Instrument Cabinets
Our price-leading Instrument Cabinets feature the same modular construction as our other enclosure lines. Instrument Cabinets are available in: aluminum or steel, 60 standard sizes, two widths, three depths and 10 heights. Standard EIA mounting angles ensure compatibility with your equipment.
Instrument Cabinet Catalog Section
Instrument Cabinets are ideal for creating desktop systems such as testing and monitoring equipment.
Instrument Cabinets feature strength, modularity, economy and they are available in 60 standard sizes.
Instrument Cabinets are available in either steel or aluminum. Their thin wall construction allows maximum space utilization; and since there is no welding or grinding, the entire cabinet is made of only 4 parts.
Features:
•Optional logo strip - you can silk screen with your logo
•Can be stacked in perfect alignment
•Removable top - simply remove 4 screws
•Can be bolted in perfect side-by-side alignment
•Rubber feet
•EIA hole pattern mountings
•Full length recessed handles
•16 ga. steel or .063 aluminum
Accessories:
•1/8" thick aluminum or steel panels
•Steel or aluminum chassis guides & supports
•Shelves - plain or with wireway
•Formed panels - plain, louvered or perforated
•Tilt bail
•Logo strips
•Trim Strips
•Angular risers
Available Sizes
Standard Panel Heights: 5-1/4", 7", 8-3/4", 10-1/2", 12-1/4", 14", 15-3/4", 17-1/2", 19-1/4" and 21"
Standard Depths: 18-1/2", 22" and 25-1/2"
Standard Panel Widths: 19" and 24"
Custom size cabinets are available, please contact factory for specifics.
Equipto Electronics Corporation is a leading manufacturer of packaging products for the electronics industry. We design and manufacture a wide variety of standard equipment enclosures, from full-size cabinets to sub-racks, at our facility in Aurora, Illinois. Special customer needs are fulfilled by modifications to standard designs or by custom enclosures. As a diverse metal fabricator we have standard product lines, each consisting of multiple variations and accessories, based on the EIA RS-310 standard (often referred to as the 19 inch standard). Many of these products are covered by the company's numerous patents.
Since the company's founding in 1960, our electronic packaging products have been modular in design. This modularity extends well beyond the EIA RS-310 ( 19" ) standard for maximum user flexibility. For example, equipment can be moved from a vertical rack to a sloped front console, work station or instrument cabinet without modification. By adding shelves, drawers, turrets, casters, lift bolts, standard or special panels, outlet strips, fans, blowers, an almost endless list of accessories and other options, our customers can usually create the perfect electronic enclosure out of a catalog of standard products. This saves time and money over a custom packaging solution. Many projects can be manufactured and shipped by Equipto Electronics in just five working days.
In addition, our experienced engineering staff works directly with customers to specify and design enclosures for special situations. Because of the flexibility of our components and our wide variety of standard products, requirements that may seem very special can often be met with relatively minor modification of standard products providing meaningful savings.
While the Equipto Electronics design staff can find solutions to virtually any metal packaging need for electronics, the company has developed special expertise in EMI-RFI shielding and in the robust construction necessary for enclosures to survive major seismic-events. These capabilities make Equipto Electronics a preferred supplier for military, civil government, power utility and other critical electronic applications. The same operational characteristics are also in demand in such fields as scientific research, medicine, oil exploration and transportation systems.
Contact us and you'll discover a responsive team of professionals ready to take on your performance, budget and delivery challenges.