Nema Custom Enclosures
Featured Product from Equipto Electronics Corporation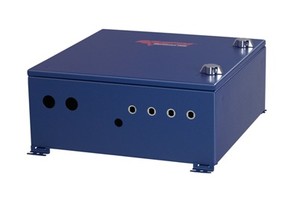 NEMA enclosures custom built to meet your exact needs
NEMA Types we manufacture:
Type 1, Type 2, Type 3, Type 3R, Type 4, Type 4X, Type 6 and Type 12
Custom design, fast turnaround and industry-leading quality will maximize the potential of your products
The National Electrical Manufacturers Association developed the system of labeling NEMA enclosure performance to better match enclosures to the application. But, why settle for an off-the-shelf standard enclosure when Equipto can quickly design and build precisely what you need.
We can create your NEMA enclosure from your drawings, rough sketches and even conversations. With virtually unlimited options your enclosure will be a great match for the technology it will be protecting. Our engineers will be with you every step of the way, from prototype to production. If you are not sure what level of protection you need, or what level of mechanical strength and corrosion resistance, our experts can help. With budgets being tight, it is just as important to avoid buying more than you need as it is to underrate your specs. Guessing about required specifications can be costly.
Product Features / Sampling of Options Available
14, 16 or 18 gauge carbon steel, Galvanized steel, Stainless steel or Anodized aluminum
Wet or powder paint in any color you require
Silk screen labeling, logos or both
Cutouts
Dividers
Handles
Wiremanagement features
EMI/RFI shielding ... be sure to check out our N6 series!
No other enclosure manufacturer has greater experience in military and other high-reliability applications as Equipto Electronics. We leverage that experience and our quality-build practices in our commercial-grade enclosures. That is particularly important if you want the assurance of knowing that your Equipto NEMA enclosure will continue to perform like new for many years to come.
view our catalog online
Equipto Electronics Corporation is a leading manufacturer of packaging products for the electronics industry. We design and manufacture a wide variety of standard equipment enclosures, from full-size cabinets to sub-racks, at our facility in Aurora, Illinois. Special customer needs are fulfilled by modifications to standard designs or by custom enclosures. As a diverse metal fabricator we have standard product lines, each consisting of multiple variations and accessories, based on the EIA RS-310 standard (often referred to as the 19 inch standard). Many of these products are covered by the company's numerous patents.
Since the company's founding in 1960, our electronic packaging products have been modular in design. This modularity extends well beyond the EIA RS-310 ( 19" ) standard for maximum user flexibility. For example, equipment can be moved from a vertical rack to a sloped front console, work station or instrument cabinet without modification. By adding shelves, drawers, turrets, casters, lift bolts, standard or special panels, outlet strips, fans, blowers, an almost endless list of accessories and other options, our customers can usually create the perfect electronic enclosure out of a catalog of standard products. This saves time and money over a custom packaging solution. Many projects can be manufactured and shipped by Equipto Electronics in just five working days.
In addition, our experienced engineering staff works directly with customers to specify and design enclosures for special situations. Because of the flexibility of our components and our wide variety of standard products, requirements that may seem very special can often be met with relatively minor modification of standard products providing meaningful savings.
While the Equipto Electronics design staff can find solutions to virtually any metal packaging need for electronics, the company has developed special expertise in EMI-RFI shielding and in the robust construction necessary for enclosures to survive major seismic-events. These capabilities make Equipto Electronics a preferred supplier for military, civil government, power utility and other critical electronic applications. The same operational characteristics are also in demand in such fields as scientific research, medicine, oil exploration and transportation systems.
Contact us and you'll discover a responsive team of professionals ready to take on your performance, budget and delivery challenges.