Collapsible Reeler and Dereeler - CW10
Featured Product from Eraser Company, Inc.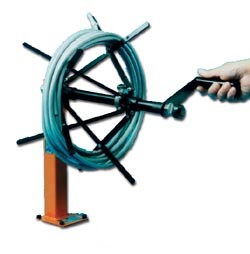 Eraser's Model CW10 Small Reeler and Dereeler - A collapsible reeler and dereeler for producing neat coils of wire and dereeling hanks or coils of material by reversing the reeling operation. An adjustable friction clutch is incorporated to prevent overruns in dereeling operations. The ideal unit for use in dereeling, measuring, cutting and reeling operations.
Model Number: CW10
Part Number: AR6001
| | |
| --- | --- |
| Coil Dimension/Inside Diameter | Variable 5" (127mmø) to 12" (305mmø) Unit may be set and locked for a specific diameter |
| Capacity/ Length | Up to 1000' (305M) of 1/8" (3.18mmø)diameter wire or equivalent |
| Capacity/ Weight of Coil | 55 lbs. (25 Kg) maximum |