Suspended Electromagnetic Separators
Product Announcement from Eriez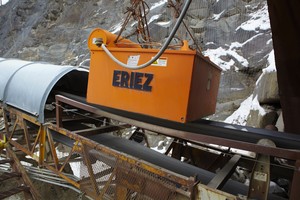 Get a Suspended Electromagnet in 10 days!
Eriez' Suspended Electromagnets automatically remove rebar, rail spikes, roof bolts and other large tramp metal from aggregates, wood chips, crushed concrete, asphalt or other mass materials.
The 7000 Series Electromagnets are available in manual or self-cleaning models. These units incorporate a powerful computer-designed coil with an external oil expansion tank to help prevent coil burnout. The self-cleaning models have a rubber-cleated belt and pulleys with shaft and drive. The manual cleaning magnets are available for shipment within 10 days with EriezExpress program, while all electromagnets in the 7000 Series come with a 5-year coil warranty.
For more information, visit the Suspended Electromagnets page on Eriez website.
---