Haptics for Touch Screens
Product Announcement from Esterline Interface Technologies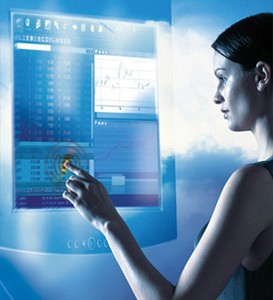 Haptics for Touch Screens
The process of authentication or the fundamental skills of communicating and learning can be enhanced with a touch screen that provides tactile feedback. Devices that provide synchronized sound and graphics upon touch are more intuitive, personal and satisfying. Now the predictive sensation of touch and response can be applied to touch screens to heighten interaction and usability.
KEY ADVANTAGES
Creates the perception of touching physical buttons and switches
Works with a wide range of touch screen sizes and technologies
Provides fast, tactile response synchronized with sound and graphics
Enhances usability, particularly for noisy or distracting environments
Helps improve user performance, productivity, and safety
Programmability can be used to further enhance usability
Diminishes the effects of device complexity
Generates performance and differentiation advantages
Advanced Input Systems can help Original Equipment Manufacturers heighten the level of interactivity and build a more engaging user experience with haptics technology. This programmable technology adds tactile feedback to touch screens. And sensory-based touch screens that "touch back", supply distinct benefits and give users a new and more satisfying experience—one that's more interactive, engaging, intuitive, and fun.
THE PERCEPTION OF PRESSING PHYSICAL SWITCHES
With haptic technology – integrating touch sensations into the human-machine interface – a user doesn't just feel the hard surface of the touch screen. Instead, graphical buttons seem to depress and release. The result is a more intuitive, natural, and multisensory experience.
Haptics technology causes the touch screen to vibrate, creating the perception of pressing physical switches, emulating crisp qualities and particular force and push-away characteristics. Based on software or firmware programming, touching different virtual objects on the screen produces the desired, context-sensitive feel for users.
PROGRAMMABILITY ENHANCES PRODUCTIVITY
The programmability of haptics technology can be used to further enhance usability, particularly for noisy or distracting environments. For example, pressing the Enter button, no matter where it appears on the screen, could always produce a consistent, strong, and crisp tactile sensation, while buttons for other actions could have a different feel, helping the user to know instinctively whether they've made the correct selection.
CREATE AND COMBINE TOUCH SENSATIONS
Rich touch sensations can be created by combining individual effects of varying frequency, waveform, magnitude, and duration. This flexibility means that touch screens can be used for many types of applications by providing a wide range of response.
Graphical buttons can simulate the familiar up and down clicks of physical buttons
Menu items can be programmed to supply a light pulse sensation or a confirming push-back response when pressed
Control switches can exhibit increasing or decreasing vibrations corresponding to motor or fan speed, volume level, lighting levels, or other parameters
Enter, Next, and other major and minor functions can supply a consistent feel throughout an application
Scrolling displays can provide a stop sensation when the first or last items have been reached
Switch controls can exhibit a pop effect
APPLY TO ALL TYPES OF TOUCH SCREENS
Programmable haptic technology can supply fast response synchronized with sound and graphical image changes. Clarity and accuracy are unaffected for a wide range of touch screen sizes. The technology can be applied to all types of touch screens including capacitive, resistive (4-, 5-, and 8- wire), surface acoustic wave, and infrared.
When the user touches the screen, an analog signal is sent to the touch screen controller, which supplies information on the precise screen location where contact was made. This location information is sent to the host application, which commands the haptic controller to play a specified tactile effect
GREATER USABILITY ACROSS ALL APPLICATIONS
Because touch screens are already effective at integrating input and display functionality, increasing perceived quality and user satisfaction requires new technology. Using touch feedback, touch screens for kiosk and point-of-sale (POS) applications can provide more definitive transactional confirmations, which can improve customer satisfaction and reduce staffing requirements. With touch screens that touch back, any application can become more interactive and personal. Connecting with users' sense of touch attracts them in a way that sight and sound alone cannot.
COMMERCIAL AND INDUSTRIAL CONTROLS
Haptic touch screens can be used in a variety of business applications such as retail and service POS, hospitality, industrial control, and emergency or command center operation. In these types of applications, the sense of touch provides reflex-rate response in milliseconds, allowing more efficient performance, especially when the operator cannot always be looking at the screen. Touch feedback can support improvements such as reduced errors, higher productivity, and lower training times.
Because understanding through touch is instinctive, touch feedback can reduce the need for focused attention, allowing safer operation for many applications. For medical and military/aerospace applications, even a small improvement in ease of use, error reduction, or glance time can have a significant impact on safety.
APPLICATIONS
INDUSTRIAL / MEDICAL / MILITARY-AEROSPACE: A user will feel context-sensitive touch feedback when activating different user interface elements and virtual objects on the screen. Even a small improvement in ease of use, error reduction, or glance time can have a significant impact on safety.
HOSPITALITY: When touch screen buttons seem to depress and release, the result is a more intuitive and natural multi-sensory experience.
RETAIL AND SERVICES POS: With the added confirmation that touch provides, users can give more attention to customers. Tactile cues can prompt users through selling steps without interfering with customer rapport, encouraging increased sales.
GAMING: Gaming applications can be more fun and engaging with touch screens that provide tactile feedback.
ADDING TOUCH FEEDBACK TO TOUCH SCREENS
User interaction is about creating an effective human-machine interface (HMI) that leads to rapid and accurate task completion or a more satisfying experience. Research has found that, when compared to single-mode voice and visual applications, multimodal applications are easier and more intuitive to use. Yet, in the world of computers and digital devices and controls, haptic feedback is often lost.
As an OEM integrator of haptics technology, Advanced Input Systems can add touch sensations to interactions that have been devoid of tactile confirmation—like touch screens—to provide a rich, multi-sensory experience.
A variety of actuators and controllers are available to impart tactile sensations to touch screen users. The correct choice of actuator depends on the touch screen size, touch technology, sealing requirements, and other mechanical and environmental factors.
Contact us to learn more about how tactile feedback can be added to enhance and distinguish your touch screen application. We produce custom-designed human-machine interfaces for specific customer applications, utilizing any user-input technology and any display technology.
---