Manufacturing Services
Service Detail from Esterline Interface Technologies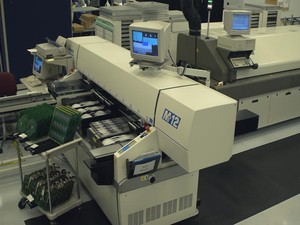 FAST, PREDICTABLE, ECONOMICAL
Advanced Input Systems has manufactured some of the world's most complex fine-feature input devices. Your product is the beneficiary of this success and our 20 years of advanced manufacturing experience.
Providing a device delivered to your specification requires development with a comprehensive set of deliverables and a proven methodology for manufacturing. By providing most fabrication and assembly in-house in small batch sizes, Advanced Input Systems reduces cycle time and inventory costs. Batch sizing also enables us to produce product quantities in the least amount of time. Typically, we manage a high combination of low to mid-volume production, with the flexibility to perform mixed-model assembly with ease.
IN-HOUSE MANUFACTURING COMPETENCIES
General Electro-Mechanical Assembly:

Complete product assembly and packaging
Integration of off-the-shelf and custom pointing devices
Integration of off-the-shelf and custom displays and touchscreens
Automated dome and switch placement
Automated functional testing

Electronics and Circuit Board Assembly:

Electrical hand assembly
Automated insertion of through-hole devices
Wave soldering
Surface mount assembly
Electrical functional test
Programming and testing of programmable devices

Piece Part Fabrication:

Laser cutting of sheet stock
Elastomer compounding
Compression molding of elastomer
Die cutting and embossing
Lamination

Graphics Printing and Decorating:

Screen printing
Pad transfer printing
Laser decorating (mark and etch)
Diffusion printing
ADVANCED INPUT SYSTEMS PRACTICES LEAN MANUFACTURING TECHNIQUES
LEAN manufacturing drives continuous improvement through reduced inventory, improved quality lower costs, reduced space requirements, shorter lead time, increased productivity, greater flexibility, close-knit supplier elations, simplified scheduling and control activities, increase capacity, better utilization of human resources, and increased product variety.
HOW CONCERNED ARE YOU ABOUT COMPONENT PARTS CAUSING PREMATURE DEVICE FAILURES?
Advanced Input Systems recognizes that the component quality-to-price / price-to performance boundary is different for OEMs dealing with products expected to last a few years, than for OEMs relying on devices that impact medical life. We can help you sort the options and preferred / prohibited component categories.
QUALITY ASSURANCE SYSTEMS:
At Advanced Input Systems, diverse product specifications for customers like Siemens, General Electric, Philips, and Abbott Laboratories evolve into the highest quality fine feature devices in the world. Your product deserves the same quality entitlement. To ensure this quality standard is met, Advanced Input has established extensive analyses for evaluation of devices at different process points—right down to quantifiable color matching by spectrophotometer. Our ISO-certified facility is compliant with international manufacturing standards.
Fundamental precepts of the Advanced Input Systems quality plan include:

Product identification and traceability
Design controls
Inspection and testing
Corrective and preventive action
Product development access
Document and data control
Process control
NBS traceable calibration system
Control of non-conforming product
Internal audits

Reliability Engineering:

Life cycle testing
Temperature and humidity testing
Chemical compatibility testing
HALT and ESS testing

Compliance Engineering:

ESD testing
EMI / RFI testing
UL / CSA certification
CE certification
HALT/HASS: Making it, Breaking it, Fixing it before release:
To help quantify product value and define quality to include performance, reliability, conformance, durability, and fitness for use, Advanced Input Systems conducts Highly Accelerated Life Testing (HALT) and Highly Accelerated Stress Screening (HASS) test and analysis processes before your product goes into production. HALT is a widely accepted methodology in the electronics manufacturing industry. Published studies on HALT chamber usage document that field failures of products within their first year of use have been lowered from >10% to less than 1%.
---