OLED Programmable Button Panel
Product Announcement from Esterline Interface Technologies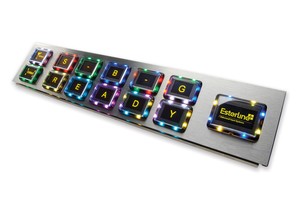 The OLED Programmable Button Panel is a revolutionary step forward in configurable button technology. Now, dynamic content and animation sequencing can be displayed on each intelligent panel button.
Coupled with programmable RGB (Red, Green, Blue) LED's on the perimeter of each button assembly, one can easily create exciting, interactive content for each button using simple Windows-Based tool.
Overview:
The OLED Programmable Button Panel supports multiple button assemblies. Each button assembly incorporates a clear plastic button top over a graphical OLED display and a translucent bezel. Under the bezel and around the perimeter of each button is an array of 24 programmable RGB LED's.
Each button contains an on-board microcontroller and flash memory for local content storage. Each button can store multiple sequences and animations. Buttons are accessed and controlled via a single USB (HID) connection from the Host application. No special drivers are required. The USB protocol handles error checking, acknowledgements, etc.
Animation sequences are built, tested and downloaded to the panel using a simple, Windows based software tool called the Resource Builder.
Typical Applications:
Gaming
Broadcast communications
Industrial
Automotive
Military
Features and Benefits
Wide viewing angle – nearly 180 Degrees
Self Illuminating OLEDS…no backlight required
High contrast ratio
High luminance
Integrated brightness control
Mechanically robust
Custom configurations/button counts available
Custom configure theme and content
Control and operate panel via single USB connection
HID device, requires no special drivers
Protocol handles error checking, acknowledgements
Windows-based tools for content development.
Supports stand-alone or networked applications
---