Ruggedized Keyboards
Product Announcement from Esterline Interface Technologies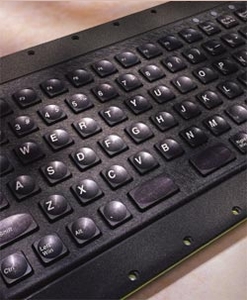 RUGGEDIZED SERIES
Advanced Input Systems' Ruggedized mid-travel keyboards are designed to withstand industrial and public use environments. Highly durable, these 85 and 63-key panel-mount boards are constructed with secured, metal keytops within a metal bezel.
This construction advantage makes them vandal resistant to knives, pens, butane lighters and virtually any other type of abuse where either vandalism or weather is the major concern in design. Keytop legends are laser etched into the keytop's surface to create a permanent legend.
These fully-rugged keyboards are ideal for mounting in equipment as an integrated keyboarding device. With proper mounting, the 85 board will meet IP65, NEMA12 or NEMA4x specifications.
TYPICAL APPLICATIONS
Public interactive kiosks
Interactive ATMs
Outdoor use
Harsh environments
PRODUCT FEATURES AND BENEFITS
Efficient 85 key layout
10 function keys
Vandal resistant metal keys and bezel
Environmentally sealed IP65, NEMA12 or NEMA4X
Operating temperature range –30° C to 80° C
Shock and vibration resistant
Resistant to impact, sharp objects, cola spill, butane lighters
Switch life: 4 million cycles
Breakover tactile response
Laser etched keytop legends
Small footprint: 12.868" x 6.546"
CE compliant
ESD protected
Pre-drilled mounting holes
PS/2 compatible
ADVANCED INPUT SYSTEMS TECHNICAL EXPERTISE – CUSTOM ADVANTAGE
Design assistance
Custom enclosures and housings
Standard or custom electronics
Foreign language legends
Integral pointing devices
Turnkey assemblies to specification
In-house testing
ISO Certified
RUGGEDIZED KEYBOARD SERIES SPECIFICATIONS
Mechanical:

Switch travel 1.5MM
Switch life 4 X 106 cycles

Environmental:

Operating temperature -30° to +80° Celsius
Storage temperature -40° to +60° Celsius
Relative humidity (non-condensing) 5% - 85%

Various:

Shock MIL-STD-810C
Vibration MIL-STD-810E
Safety Certifications UL, CSA, IEC
Operating force 150

Certifications:

CE Mark
FCC Class B
EN55022 Class B
EN55024 Information Technology Equipment Standard
EN50082-2 Heavy Industrial Immunity
MOUNTING CONSIDERATIONS
Bezel shape and alignment: The shape and alignment of the bezel are not critical to keyboard performance. However, different approaches to bezel design will affect the aesthetic appearance of the overall implementation. Consult your Advanced Input Systems Sales Engineer for bezel design recommendations.
Keyboard mounting: The Ruggedized 85 key panel-mount keyboard provides 30 mounting holes (0.156") around the perimeter of the keyboard. The keyboard includes a factory installed rubber gasket as a standard option. When mounted correctly, this gasket provides a NEMA4x compliant seal. The key surface already complies with NEMA4x standards directly from the factory. Consult your Advanced Input Systems Sales Engineer for suggestions on mounting techniques utilizing these locations.
---