ASO- SAFETY CONTACT EDGES
Product Announcement from Euchner-U.S.A., Inc.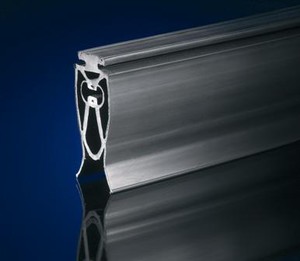 ASO- Safety contact edges are pressure-sensitive sensors applied to ensure the safety of closing edges at possible crushing or shearing points which are prone to accidents. They may be installed on automatic gates, machines and other facilities for handling equipment in order to protect individuals from harm. Different systems and materials as well as products made to the customers individual specifications enable ASO GmbH to cover any imaginable requests in which protection may be needed. Inside all systems there are two conductive surfaces in which a copper wires has been installed. The moulded plugs insure a permanent contact of the conductive layers of the switching unit. ASO-Safety contact edges are provided in various heights and widths, with reverted edge seals and various possibilities for mounting. Various braking and run out paths, and extensive protection against susceptibility to damage can be established in this manner by meeting your requirements. If the requested profile is not avilable, we will be glad to make a product to your exact specifications. ASO-Safety contact edges adjust to any shape and form. The closing edge to be safeguarded at various types of equipment is very often not straight by follows the shape of the equipment. In this case mounting profiles are made to customers' specifications by adapting them to the desired shape.
Click here to learn more, including product specs, typical applications, features and benefits and to download the product brochure.
---