Access Made Easy - Euchner's Electronic Key System
Product Announcement from Euchner-U.S.A., Inc.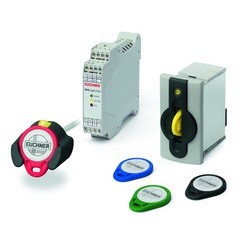 The EUCHNER Electronic Key System (EKS) allows only authorized personnel to access machine controls and process parameters. The uniquely coded inductive key tags, can providing various levels of authorization. For example, different levels of access can be established for programming, maintenance, operation, etc. The EKS makes passwords obsolete.

As previously with the EKS, the Light version also permits controlled access to individual machines, entire installations or other facilities. The only difference is that with the EKS Light, the device directly identifies a user by his Electronic-Key. A control system is not necessary for this check. If an authorized user was detected, an access level is output with which the user receives a certain authorization. The derivation of access rights onto machine functions is carried out through the programming of the control by the system intergrator.
Click here to learn more, including product specs, typical applications, features and benefits and to download the product brochure.
---