CES-A-LSP Safety Switch
Product Announcement from Euchner-U.S.A., Inc.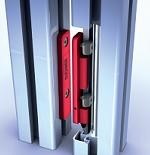 EUCHNER CES Category 4, Non-Contact Safety Systems are used to monitor the position of movable machine guarding by means of Inductive Coding. These systems are designed for use in areas where a high level of tamper resistance and safety is required. These systems feature an inductive read head, evaluation unit / safety module, and a digitally coded actuator. Unlike universally coded magnetic switches, the CES actuators are uniquely coded and cannot be bypassed by any means. The safety switch CES-A-LSP read heads and actuators are small designed for mounting on aluminum frames, being held into place with T-bolts. These safety switches allow for misalignment in the verticle and horizontal directions due to the large hysteresis. The CES read heads and actuators are used in conjunction with CES evaluation units. The evaluation units determine if the combination functions as a Unicode or Multicode system.
Click here to learn more, including product specs, typical applications, features and benefits and to download the product brochure.
---