Multifunctional Gate Box with PROFINET
Product Announcement from Euchner-U.S.A., Inc.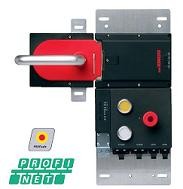 EUCHNER's MGB with PROFINET (Multifunctional Gate Box with PROFINET): The MGB basic system already contains everything that is needed to protect a safety guard in PLe/category 4 according to EN ISO 13849-1. In the PROFINET version we are additionally relieving you of time consuming wiring. You define which functionality is required and simply integrate the required elements to achieve your wishes. The MGB delivers the protocol frame with the PROFINET input and output data bytes required for it.
Whether interlocking, guard locking, escape release or other fuctions such as push buttons for start/stop, emergency stop, etc. - The MGB meets all your requirements for safety-related applications. And if your needs grow, the MGB system grows with them. Due to the sophisticated modular design, the evaluation modules can quickly become a small operator panel.
Click here to learn about features and benefits, application data and technical information or Ask the Expert any product questions.
---