Pressure Vessels meet International Standards
Product Announcement from Euro Pressure Vessels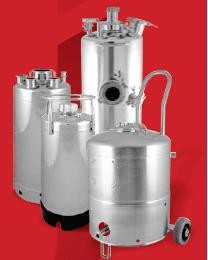 Constructed of stainless steel and other modern alloys, our rugged pressure vessels offer quality that conforms to rigorous ASME, UN and PED requirements. Ideal for dispensing, mixing or storing hazardous, corrosive, flammable or high purity products.
Rated for full vacuum our Pharmaceutical/Hygenic Vessels are available in diameters of
229mm (9")
305mm(12")
458mm(18")
with a total volume range from 3.8 to 141.5 litres (1 to 37.4 US gallons)
Versatile UN Portable Pressure Vessels are pre-tested 5 & 55 US gallon available from stock. A range of closures add flexibility to your vessel.
Our standard and custom ASME/General Purpose Portable Pressure Vessels meet virtually any need with a range of closures,fittings, protective skirts and chimes.
Contact us with your inquiries via the links on the left and download our comprehensive Pressure Vessel Brochure
---