Leading radar manufacturer has chosen EVANSCAPS
Featured Product from Evans Capacitor Company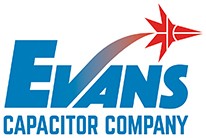 Evans Capacitor Company Awarded $2 Million Order to Power New Radar System

A leading radar manufacturer has chosen EVANSCAPS for use in their new state of the art radar.
East Providence, RI (February 22, 2018) - Evans Capacitor Company has been awarded
a $2 million order from a leading radar manufacturer. The Evans hybrid capacitors
(EVANSCAPS) will supply DC storage power for the state of the art T/R module
(transmit/receive). The order was booked in Q4 2017 with delivery by the end of 2019.
Evans Capacitor Company is an AS9100/ISO2001 certified manufacturer of hybrid wet
tantalum capacitors with facilities located in East Providence, RI (HQ) and Sanford, ME.
EVANSCAPS offer significant savings of space, weight and power compared to other
capacitor technologies and are qualified and in service with all tier 1 aerospace and
defense contractors. Visit www.evanscap.com to learn more.