Gauge-head Type Linear Position Sensors - P112
Product Announcement from Everight Position Technologies Corporation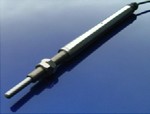 Popular "gauge head" configuration inductive linear sensor with stainless steel spring loaded push rod and IP67 sealed body. 1/2 in. UNF mounting thread for easy application; callibrated stroke length from 10-50mm. An intrinsically safe version, X112, is available.
To learn more about the P112 use the links below:
P112 NEW Gauge-head Type Linear Position Sensor
P112 Fatures:
Gauge Head Positioning for Industrial and Scientific Applications
Non-Contacting Inductive Technology
Robust, Durable and Reliable
Compact Overall Length
Up to 50mm Travel
19mm Diameter Body
Spring-loaded Plunger
DC Supply - DC Analogue
Output - Voltage
Excellent Accuracy and Stability
IP67 Sealing
Other Linear Position Sensors:
P100 linear-cylinder position sensor
P101 stand alone linear position sensor
P103 short stroke position sensor
P106 internally mounted cylinder sensor
P111 rugged linear position sensor
P112 NEW Gauge-head Type Linear Position Sensor
P113 slimline stand alone linear position sensor
An over view of our extensive product line (including product specific links):
Email us for these or any other product questions or specific application questions, we are here to help...
About Everight Position:
Everight Position Technologies Corporation is proud to be the North American Servicing Distributor for Positek, Ltd. of Great Britain, one of the world's premier designers and manufacturers of LVIT linear and RVIT rotary position sensors. Positek features an extensive standard line of mechanical configurations, electrical input and output options, and ATEX certified intrinsically safe electronics for hazardous locations to satisfy a very wide variety of industrial and commercial applications. Positek products are also highly customizable, if necessary, to fit the exact requirements of the application.
---