Intrinsically Safe linear-cylinder position sensor
Product Announcement from Everight Position Technologies Corporation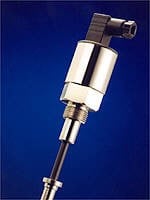 Intrinsically Safe Cylinder Linear Position Sensors from Positek, Ltd and Everight Position. The Positek X100, E100, and M100 LVITs are durable, high accuracy, inductive proportional output position sensors that integrate directly into hydraulic and pneumatic cylinders that must operate in hazardous atmospheres. ATEX certified for hazardous gas/vapor, dust, and underground mining applications, these sensors are available in any stroke length from 20 mm up to 600 mm.
"X" Series for Gas/Vapor atmospheres Intrinsically Safe to ATEX Ex II 1G, EEx ia IIC T4 (Ta = -40°C to +80°C)
"E" Series for Gas/Vapor and Dust atmospheres Intrinsically Safe to ATEX Ex II 1GD, EEx ia IIC T4, Ex iaD 20 T135°C (Ta = -40°C to +80°C)
"M" Series for Gas/Vapor and Dust atmospheres in Mining Applications Intrinsically Safe to ATEX Ex I/II M1/1GD, EEx ia I/IIC T4, Ex iaD 20 T135°C (Ta = -40°C to +80°C)
Non-contacting inductive technology eliminates sensing element wear
Measurement range set to customer requirement from 20 to 600mm
Proportional voltage (0.5 – 9.5V DC) or current (4 – 20mA) outputs available
Frequency response >10 kHz (-3dB)
Highly durable and reliable
High accuracy and stability
Sealing to IP65/IP67 as required
Overall performance, repeatability and stability are outstanding over a wide temperature range. The sensor's design is compact and space-efficient, featuring a fluoropolymer sheathed sensing element that is responsive along almost its entire length for an optimal stroke to length ratio.
Like all Positek sensors, the X, E, and M100s provide a linear output proportional to displacement. Each unit is built and supplied with the output calibrated to the measuring range required by the customer, from 20 to 600mm, and with full EMC protection built in. The sensor's stainless steel housing is practical to install in cylinders and has a variety of mechanical mounting options, including the "106" version for extremely tight spots where the electronics housing is separated from the sensing element.
Positek intrinsically safe sensors must be operated with Positek BX barriers which provide either a 0.5 – 9.5V DC or 4-20mA analog output that represents absolute position immediately on power up.
Positek features the world's most extensive line of intrinsically safe linear and angular position sensors to satisfy a wide variety of industrial and commercial applications. Positek products are also highly customizable, if necessary, to fit the exact requirements of the application.
About Everight Position Technologies:
Everight Position Technologies Corporation is proud to be the North American Servicing Distrubutor for Positek, Ltd. of Great Britain, one of the premier designers and manufacturers of LVIT linear and RVIT rotary position sensors. The company is also a "sensor integrator", bringing together various position sensor technologies with customized mechanical packaging to create position sensor devices for specific OEM applications. For more information on Everight Position Technologies Corporation, please refer to our web site at www.evrtp.com.
Please click on the links to the right for more information, request a quote or contact Everight Position today!
---