Miniature Rotary Position Sensors, Compact Sensor
Product Announcement from Everight Position Technologies Corporation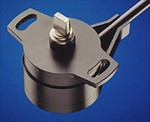 Miniature Rotary Position Sensors (P501) from Everight Positionn Technologies Corporation. The P501 is a very compact and durable sensor ideally suited to applications which are beyond the capabilities of potentiometers.
The P501 RIPS (Rotary Inductive Position Sensor) is a non contact potentiometer which provides outstanding performance and durability for harsh environments.The sensor has been designed for arduous applications. The P501 is very compact and durable and is ideally suited to applications which are beyond the capability of potentiometers.
The sensor incorporates all the signal processing to give a high performance DC analogue output. The sensor provides a linear output characteristic with displacement and the DC analogue output signal represents absolute position.
Angular displacement ranges of up to 140 degrees can be achieved without gearing. Linearity of +/ -0.5° over 80 degrees rotation is achieved as standard. Performance and stability are excellent over a wide temperature range up to 125°C. The sensor also offers excellent frequency response.
The sensor has a robust anodized aluminum housing sealed to IP67. The housing is easy to mount and sprung blade drive or plain shaft with flat are available.
The sensor is suitable for many applications in the industrial market, but are particularly suitable for automotive testing and motor racing applications.
Everight Position serves automated equipment and component OEMs and large end users requiring specifically designed LVDT, RVDT, LVIT, RVIT, and SEF based sensor devices to provide linear and angular position information to data acquisition and control systems. Product solutions can integrate all three essential aspects of the application requirement: basic sensor technology and support electronics, mechanical packaging, and system interface. Mechanical packaging considerations include physical interface with actuated components as well as environmental and operating conditions including immersion, pressure, temperature, shock and vibration, and impact. System interface solutions encompass digital interfaces such as Ethernet, Canbus, Devicenet, etc. plus wireless and TEDS "plug and play" technology.
---