Ever-Slik for outstanding corrosion resistance
Featured Product from Everlube Products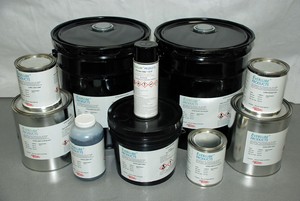 Durable spray coating with excellent corrosion and chemical resistance.
Ever-Slik 1201 is a thermally cured, specially blended epoxy based coating which provides outstanding corrosion resistance in almost any environment. Along with its excellent corrosion resistance, Ever-Slik 1201 is ideal for applications where an abrasion resistant coating is needed. Ever-Slik 1201 also offers excellent barrier protection from harsh chemicals and solvents
Watch>>>Everlube Products
Everlube Products is a pioneer and leader in solid film lubricant technology.
Market : Our market section provides information on coatings that service the aerospace, military, semiconductor, medical, mechanical components, industrial machinery, fabricated metal, automotive, Fasteners, Chemical Processing,, Elastomeric Parts, and Electronics markets. In these markets, we have a vast number of OEM specifications. Please see our specification section for listings by specific company and/or specification number.
Product Type : In our product type section, we offer a search by PTFE Coatings, MoS2 Coatings, protective coatings, air dry solid film lubricants, water based coatings, Mil spec and aerospace approved coatings, Graphite Coatings, Tungsten Disulfide Coatings, Process Lubricants/MRO, and Electronic Control.
Brand Family : For customers familiar with our product brand names, we have provided a section that includes many of our major product brands and allows for searching by product name. Some of our leading product brands included in this section are Everlube®, Lube-Lok®, Lubri-Bond®, Ecoalube®, Ever-Slik®, Esnalube™, Perma-Slik®, Kal-Gard®, Electrobond®, Formkote®, Henco-Mask™, Electrolube, Evershield, Henco-Phos, Insul-Cote, No-Swab and X-Coat
Design Engineering:
Many design engineering problemsare solved through the use of engineered coating technologies. In many of these applications, our products provide performance enhancements when dealing with problems associated with corrosion, wear, galling, seizing, thermal stability, friction and chemical resistance. Many of our engineered coatings are used whenever conventional wet lubricants cannot or should not be used.
Quickly Find an Everlube Product