Low VOC PTFE based solid film lubricant
Featured Product from Everlube Products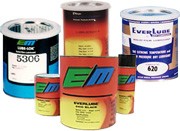 PTFE water based durability with good corrosion protection and color flexibility for lighter loads.
Everlube 9500 is a low VOC PTFE based solid film lubricant with a high molecular weight epoxy binder system. This coating provides excellent abrasion resistance, very good corrosion, chemical resistance and performs best in lighter load carrying applications
Everlube® 9500 Data Sheets :
Material Safety Data Sheets (MSDS) - Concentrate
Material Safety Data Sheets (MSDS) - Diluted
Material Safety Data Sheets (MSDS) - Aerosol
PHYSICAL PROPERTIES :
Lube Solid PTFE
Binder High Molecular Weight Epoxy
Carrier Water
FUNCTIONAL PROPERTIES :
Salt Spray 500 hrs.
C.O.F. .06 - .08
Max Temp. 400° F
Load Capacity < 20K psi
Wear Life 35,000 cyc.
Abrasion Resistance Excellent
Chemical Resistance Very good
PROCESSING INFORMATION :
Cure Temp. 1 hr. @ 375°F +/- 25°F
Recommended Thickness 0.3 to 0.7 mils
TYPICAL MARKETS :
Medical, Semiconductor, Fabricated Metal Parts, Fasteners, Chemical Processing
We meet your toughest performance specifications
Capitalize on Everlube Products expertise. We've been developing critical tolerance coatings since 1953. Our leadership in engineered coating is evidenced by our customers, approvals and specification history of accomplishments.
Engineered coating solutions can help lower manufacturing costs, increase product life, save reengineering costs and ease the manufacturing process. And by increasing component reliability, Everlube Products' coatings can even lower maintenance and warranty costs.
We take a thorough approach to service
The many variables in design, materials, environments, coatings and requirements make each solution a unique challenge. That's why we follow a design problem solving process as our approach to the application. And Everlube Products is with you every step of the way.
Our coating professionals help you define your objectives, performance improvements and/or problems; develop and evaluate alternatives; then implement the engineered coating solution to meet your objectives. From rapid prototyping to research and development and application assistance, our engineered coatings team works for you.
This team approach to design engineering helps expedite your time to market. Along the way, we'll meet the demands of changing requirements, stay flexible, and work with you to meet your schedule. One rule of thumb to keep in mind: the earlier our involvement, the better the results.
We are the single product resource
Our focus is on the development and application of engineered coatings. Because we formulate, manufacture and offer application assistance for engineered coatings, we're in a unique position to understand and control the complexities involved.
Everlube Products' leading brand name products continue to lead the industry: Everlube®, Lube-Lok®, Lubri-Bond®, Henderlube™, Perma-Slik®, Kal-Gard®, Ecoalube®, Electrobond®, Esnalube™, Electrolube®, Everlox®, Formkote®, Henco-Phos™ and Henco-Mask™. Our knowledge of product formulation and application expertise works together for your benefit.
Because Everlube Products is the complete product resource for engineered coatings, we can help shorten your design time and ensure that you receive the best quality product. It's what you expect from a leader!
watch>>>Everlube Products
Everlube Products is a pioneer and leader in solid film lubricant technology. We formulate, manufacture and market several leading product brands including E/M®, Everlube®, Lube-Lok®, Lubri-Bond®, Henderlube™, Perma-Slik®, Kal-Gard®, Ecoalube®, Ever-Slik®, Electrobond®, Esnalube™, Electrolube®,Formkote®, and Henco-Mask™. Our engineered coatings and dry film lubricants meet a wide variety of industry and military specifications for part and component performance.
Design Engineering:
Many design engineering problemsare solved through the use of engineered coating technologies. In many of these applications, our products provide performance enhancements when dealing with problems associated with corrosion, wear, galling, seizing, thermal stability, friction and chemical resistance. Many of our engineered coatings are used whenever conventional wet lubricants cannot or should not be used.
Quickly Find an Everlube Product