Schaeffler completed the acquisition of Ewellix
Featured Product from Ewellix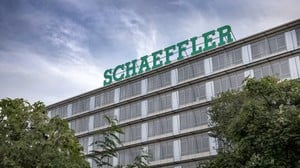 Ewellix will be operated as an additional business that works closely with the Schaeffler Industrial team. "This will enable us to continue our agile way of working in the future", says Daniel Westberg, CEO of Ewellix.
The two companies complement each other perfectly. "This is particularly true in the high-growth areas of electromechanics, efficiency optimization, automation, and robotics", says Dr Stefan Spindler, CEO Schaeffler Industrial.

Being one team means that Schaeffler and Ewellix will bring their expertise together and continue to develop as a company. Schaeffler will support the Ewellix team in executing the major growth plans, leveraging synergies in every step along the common journey.

Daniel Westberg adds: "We will continue to bring the best support and service level for our products that our customers have come to expect."

"Together, we will form a global leader in linear motion and electromechanical actuation", says Ralf Moseberg, Head of Industrial Automation at Schaeffler.

Press contact
Daniel Westberg, CEO of Ewellix, Mobile: +46 705 75 24 71, daniel.westberg@ewellix.com

About Ewellix
Ewellix is a global innovator and manufacturer of linear motion and actuation solutions used in assembly automation, medical applications and mobile machinery. Ewellix has 16 sales units and six factories. External net sales are approximately 250 EUR million and we employ around 1 250 people. Ewellix is headquartered in Gothenburg, Sweden and is owned by the Schaeffler Group.
For further information: https://www.ewellix.com/en

About Schaeffler
Schaeffler Group – We pioneer motion. As a leading global supplier to the automotive and industrial sectors, the Schaeffler Group has been driving forward groundbreaking inventions and developments in the fields of motion and mobility for over 75 years. With innovative technologies, products, and services for electric mobility, CO?-efficient drives, Industry 4.0, digitalization, and renewable energies, the company is a reliable partner for making motion and mobility more efficient, intelligent, and sustainable. The technology company manufactures high-precision components and systems for powertrain and chassis applications as well as rolling and plain bearing solutions for a large number of industrial applications. The Schaeffler Group generated sales of approximately EUR 13.9 billion in 2021. With around 83,000 employees, Schaeffler is one of the world's largest family companies. With more than 1,800 patent applications in 2021, Schaeffler is Germany's third most innovative company according to the DPMA (German Patent and Trademark Office).
For further information: https://www.schaeffler.com